A woman was apparently shot Thursday night, Nov. 30, inside what is described by authorities as a drug house at the corner of Cedar and Webb in Mountain View.
Police were called to the shooting after 9 p.m. Thursday and found blood spots along with a firearm on the living room floor — but not a shooting victim.
The court record noted police did locate and interview an uninjured woman in the residence. Initially identifying herself as "Nancy Barnes," the woman then told police her real name was Heather Lynn Martin, age 59.
Apparently, she gave police her sister's name because she thought she could be arrested for some outstanding warrants. She told police she was in her bedroom when she heard gunfire, and then ran into the living room to find her female companion, Trina Wallace, shot. Martin told police she took Wallace to a neighbor's residence where EMS picked her up and took her to the hospital.
Upon searching and inventorying the residence where the shooting took place, officers did find meth, marijuana and various narcotic pills, packaged to sell along with several pieces of drug paraphernalia.
Heather Lynn Martin has been charged in circuit court with nine counts of possession of drug paraphernalia; possession of meth to sell; maintaining a drug premises within 1000 ft. of a church in a drug-free area of the city; and obstructing governmental operations by lying about her identity.
Martin is also being charged under the Habitual Offender Act because she has been previously convicted of four or more felonies.
Martin has been placed on a $100,000 bond.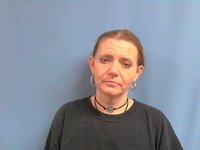 For this story and more, listen to Ozark Newsline with Gary B. on Arkansas 103.3, 93 KZLE and other W.R.D. Entertainment radio stations.
Pic via Stone County Sheriff's Office