A Stone County man has been arrested and charged after an investigation into sexual assault allegations involving a female juvenile.
Stone County Sheriff Lance Bonds said an investigation was conducted by Detective Sean Hickman of the sheriff's office and an investigator from the Arkansas State Police Crimes Against Children Division.
The court information says that the accused, Timothy Cullipher of Mountain View, did engage in sexual activity with a female juvenile and is charged with sexual assault in the 4th degree, a class A misdemeanor and sexual indecency with a minor, a felony.
Cullipher's bond has been set at $25,000.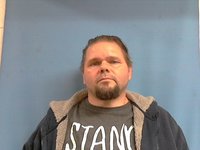 Gary Bridgman will have more on this and other stories during Ozark Newsline heard on Arkansas 103.3, 93 KZLE and other W.R.D. Entertainment radio stations.
Pic of Timothy Cullipher via Stone County Sheriff's Office.