Arkansas State University – Newport (ASUN) recently announced student Jace Ford as the recipient of a $1,000 spring semester scholarship from the Jackson County Farm Bureau.
"The scholarship that the Farm Bureau has given Jace is more than just a scholarship, it is an investment in agriculture so we can continue to have hardworking, skilled and educated employees, because without them, how will the food get to the kitchen table?," said Matt Hardin, agriculture technology instructor, who along with ASUN's agriculture grant program coordinator and agriculture instructor Lindley Gilliaum, chose Ford as the recipient.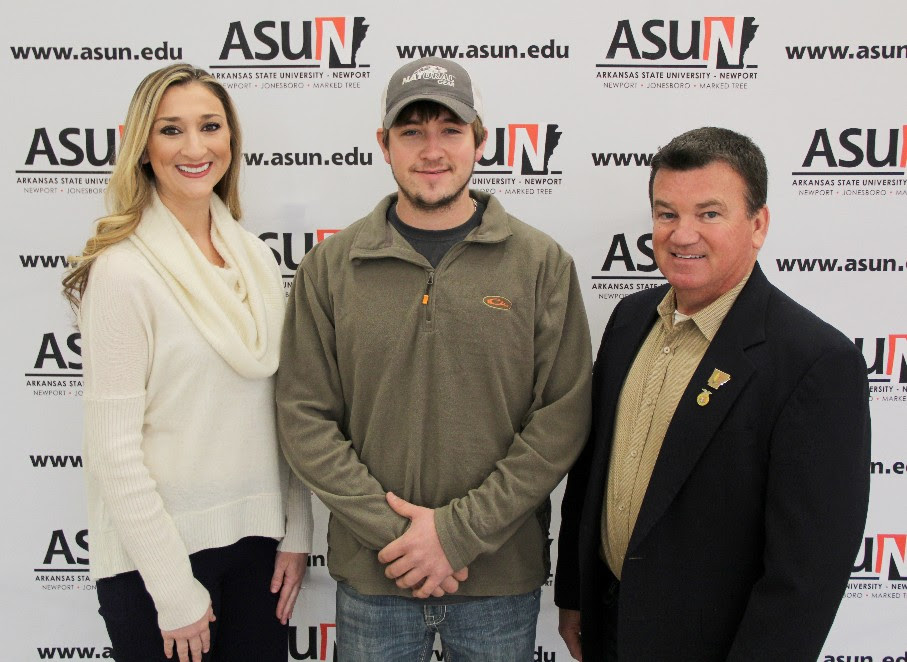 From left: Teriann Turner (ASUN), Jace Ford, Tommy Young (President of Jackson Co. Farm Bureau)
Hardin said Ford, who is studying agriculture technology, is paying his way through college and hopes to work for Helena Chemical upon graduation, was chosen because he is representative of the qualifications sought after in the industry.
"He is hardworking, shows up for class and is very interested in agriculture," said Hardin. "He comes from a family farm background and is currently working in a farming operation now."
ASUN's new agriculture technology program educates students in the skills necessary to be successful within the field and aims to graduate students who are work ready. The program provides students with hands-on experience with the latest technology in precision agriculture and crop monitoring, with local producers and industry partners giving students the opportunity to work in the field with a mobile precision agriculture lab, GPS, GIS, various farm management software and guided tractor systems. Graduating students receive an Associate of Applied Science degree.