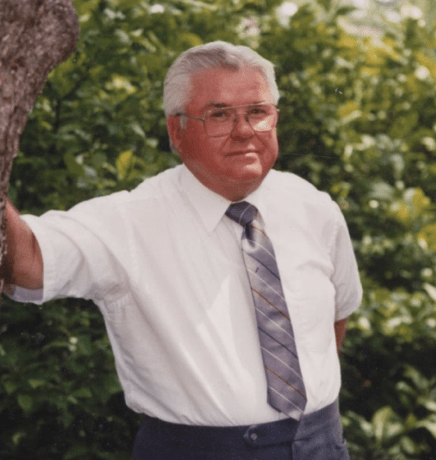 Carthel Leon Hefner, resident of McCrory, Arkansas departed this life on Wednesday, May 2, 2018 from the Woodruff County Health Center at the age of 93.  He was born in Antioch, Arkansas on December 19, 1924 the son of the late Lonnie and Vela Harrison Hefner.
Visitation will be on Friday, May 4th between the hours of 6:00 p.m. to 8:00 p.m. with funeral services being held on Saturday, May 5th  beginning at 11:00 a.m. at the Thompson-Wilson McCrory Funeral Home Chapel with Bro. Cecil Fuller, officiating.  Interment will be in Antioch Cemetery near Beebe.
Mr. Hefner was a graduate of Beebe High School.  He was a WWII Veteran of the United States Army as a Staff Sergeant for the 32nd Division where he had received two Purple Hearts and a Bronze Star.  He later attended Arkansas State University in Beebe and received his Master's Degree in Education from the University of Arkansas at Fayetteville and was an avid Razorback fan.  He married the love of his life, Mattie Yielding Hefner on December 10, 1948 who had preceded him in death on February 20, 2010.  He was a member of the McCrory First Baptist Church. Mr. Hefner was employed as a Coach, a Math teacher and before his retirement he was the Superintendent of the McCrory School District for over 25 years.  He was a member of the American Legion and McCrory Rotary.  Mr. Hefner was a Boy Scouts Scoutmaster for 10 years and received the Vigil Honor in the Order of the Arrow.  He enjoyed wood working where he made benches, swings and Razorback Clocks.   
Mr. Hefner is preceded in death by his parents, Lonnie and Vela Hefner, his wife, Mattie Hefner, one daughter, Carla Sue Hefner, brothers, Brewer, Budge, Vernice, Dueward, Jerrell, Bill, one sister, Vernell Edwards.
Mr. Hefner is survived by one son, Ronny Hefner and wife Sherry of McCrory, Arkansas, one grandchild, Rob Strickland and wife Dana of Beebe, Arkansas, two great-grandchildren, Austin and Sierra Strickland of Beebe, Arkansas, one brother, Dale Hefner of Beebe, Arkansas, one sister, Mattie Ruth Fisher and husband, Jim of Beebe, Arkansas, a special family, Lisa, Alan, Kevin and Chloe Morris of McCrory, Arkansas, his caregivers, Debra, Novella, Karen, Jodi, Jean, Karen, B. J. John, Jennifer and Theresa.
The family requests that memorials may be made to Arkansas Children's Hospital and to the McCrory First Baptist Church.
Those honored to serve as pallbearers will be Lynn Simmons, Barney Fields, Chuck Joyner, John G. Armstrong, Murray Armstrong and Hugh Burge.  Honorary pallbearers will be Joe Hart and Billy Wayne Carter.