A new brewery is coming to the region. Based out of the renovated former Norfork Post Office and Grocery, the Norfork Brewing Company will have its grand opening celebration Saturday, June 23. Musical guests will perform through the day with the band Rio performing at 6 p.m. Hillery's White River Smoke will be serving barbecue all day.
Norfork Brewing Company was started by Jason Aamodt and his wife Bea. The couple renovated the old Post Office and Grocery in Norfork into the Brewery and Taproom over the course of the last year. The brewing team is rounded out by their nephew, Ben Folta, who is the assistant brewer.
The brewery has eight taps, featuring beer brewed right on the premises. The flagship beer is the Paw Paw Steam Beer, or as Jason, calls it, "Nature's Beer." Jason isolated a wild brewing yeast from the Paw Paw trees growing along the North Fork River. Beer styles range from light summer ales, to sours, to hoppy, malty, ales and lagers, to dark stouts and amber ales.
The taproom features games, a comfortable patio, and wide tables and chairs to enjoy the company of friends and neighbors and also offers homemade alcohol-free soda, wine and snacks such as cheese and crackers; pretzels; hummus with veggies; and chips and salsa.
Bea and Jason Aamodt
When they are not brewing beer or harvesting mulberries, Jason is a lawyer and educator, with degrees in law, chemistry, and biology. Bea is a registered professional civil engineer and public works director for a small city. Folta is a classically trained chef, with a degree from the world-renowned New England Culinary Institute.
To visit their website, go to nfbrew.com, and follow them on Facebook at facebook.com/naturesbeer.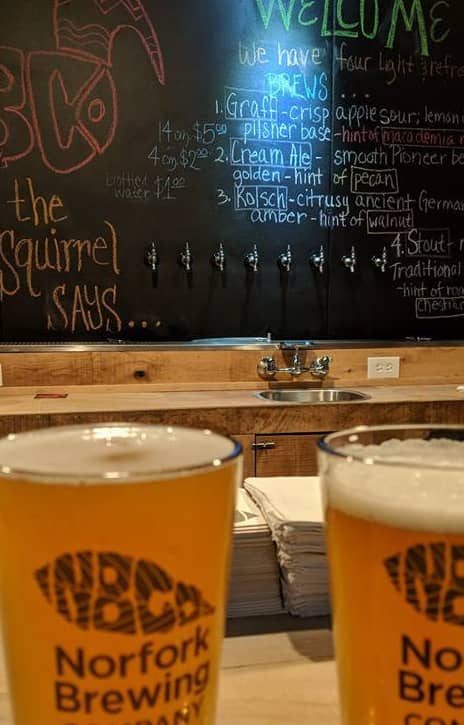 Images via nfbrew.com