Chris Milum, chairperson of the Fast ForwARd Fund Committee (left in below pic), presented a $16,000 check to the Independence County Public Education Foundation board today in support of the Independence Promise program.
Milum presented the check on behalf of a committee of residents entrusted with funds from ForwARd Arkansas, a public-private partnership of the Arkansas Board of Education, the Winthrop Rockefeller Foundation, and the Walton Family Foundation.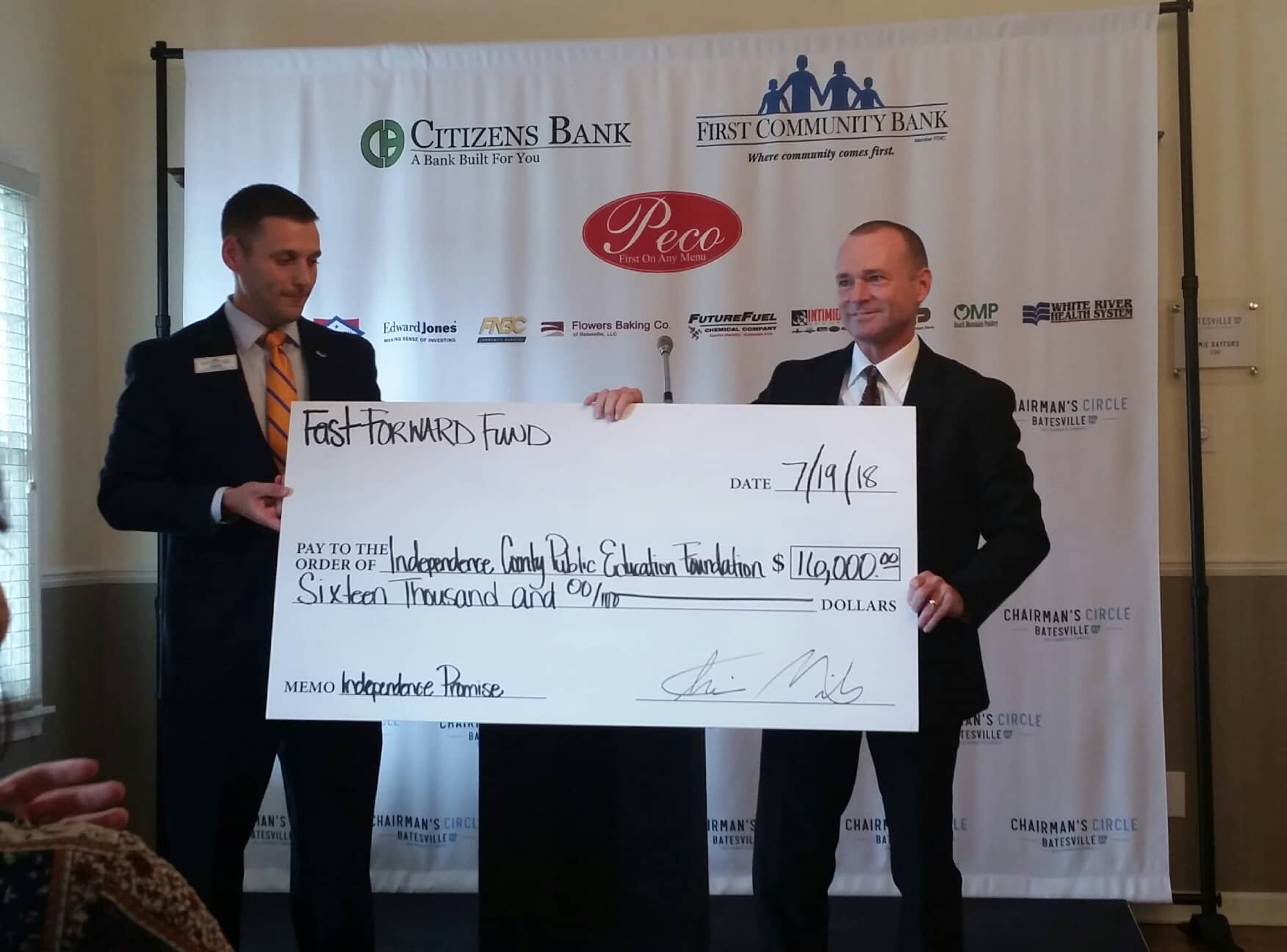 The Independence Promise was an idea brought forward by citizens that participated in the IMPACT Independence County strategic planning process. Those that served on the educational excellence committee imagined a scholarship program supported by philanthropy that would allow all Independence County students to take advantage of opportunities at Lyon College and the University of Arkansas Community College at Batesville (UACCB) regardless of income.
After observing pilot programs for a few years and making connections with business partners and donors who believe in the program's model, the foundation has received over $183,000 in program support.
"The number one handicap we have found in students pursuing higher education or training is a financial barrier,"  said Dr. Brian Shonk, chairperson of the foundation (right, in pic above). "The program will focus on equitable financial access to educational opportunities, shortening time from high school graduation to workforce entry, and partnerships that allow students to graduate career or college ready.
Program model and guidelines were defined by Jamie Rayford vice chairperson for the
foundation. "Our model is not a free or late pay model. This makes it unique within the state.
The program is designed to support Independence County students who wish to begin higher education or training prior to high school graduation. The model partners with the school district to provide 20% of the total cost, the student and family pay an amount determined by the students' national student lunch status, and the foundation picks up the other cost, so long as the student completes a "C" or better in the course."
The foundation expects to see a decrease in the cost of postsecondary education and training, an increase in motivation and educational attainment as well as in the number of citizens with credentials in the area, and an increase in enrollment at UACCB and Lyon College as outcomes of the program.