Dr. Brooks Blevins (pictured), the Noel Boyd Professor of Ozark Studies at Missouri State University in Springfield, will speak Sunday, Oct. 6, at the Old Independence Regional Museum to discuss his latest work, "History of the Ozarks, Vol. 2: The Conflicted Ozarks," which details the history of the region during the Civil War and Reconstruction. .
His talk is scheduled for 2 p.m. at the museum, which is located at 380 S. 9th St. in Batesville.
Dr. Blevins is "…acclaimed as one of the premier historians of the Ozark region and its culture," the museum noted in a release. His works are commended by numerous sources for their attention to historical detail combined with the energetic nature of this skilled storyteller, the release said.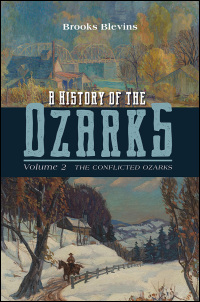 Dr. Blevins earned a bachelor's degree with high honors from Lyon College, and his master's and Ph.D. from Auburn University. His professional career includes teaching positions at Lyon, Mississippi State University at Meridian, Ozarka College, and his current role at Missouri State.
He is the author of seven books including historical texts about the Ozarks and those depicting life and exploits of Ozarkers. He has also authored numerous articles and collaborated in editing two additional books.
His book will be available for purchase at the museum on the date of his talk while supplies last.
Image of Dr. Brooks Blevins via Missouri State University