May 4 is the target date for the state to begin loosening some restrictions related to COVID-19, helping begin a path for many Arkansans to eventually get back to work.
The date was announced today by Gov. Asa Hutchinson at his statewide briefing and comes after President Donald Trump unveiled the "Opening Up America Again" plan on Thursday. The Trump administration recommendations include proposed state or regional criteria be met before progressing to a three-phase plan on gradually getting things back to normal.
(To read the full Opening Up America Again Plan, click here.)
If Arkansas can meet the plan's criteria (such as downward trends in cases and robust testing — see chart below), the state will begin implementing elements of the first phase around May 4.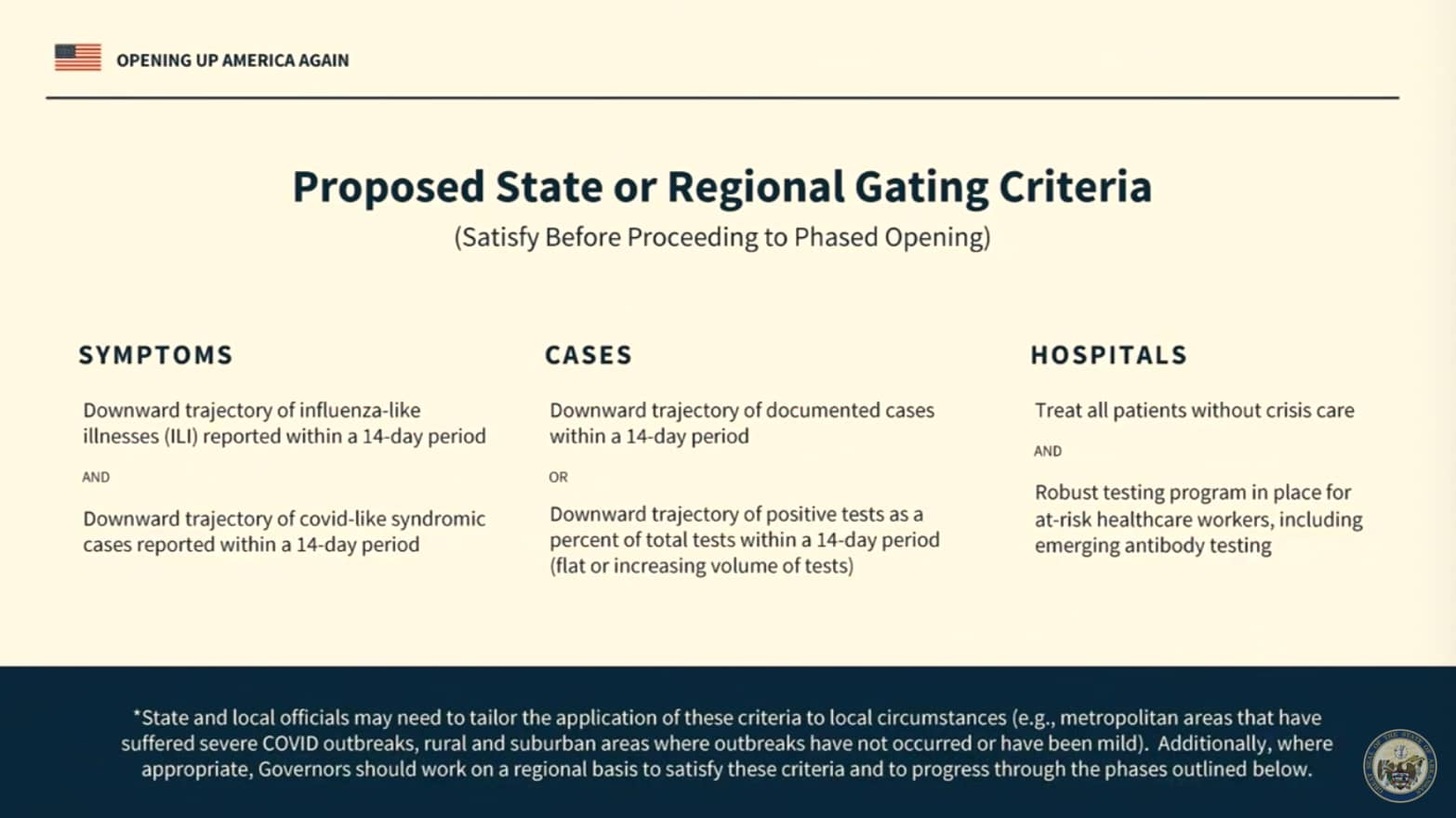 The first phase still involves adhering to most of the current CDC guidelines such as continuing social distancing; avoiding those with underlying conditions or the elderly; and the continued closing of schools. However, clinically appropriate elective surgeries can resume and large venues (restaurants, movie theaters, sporting venues, places of worship) can operate under strict social distancing protocols. (See charts below.)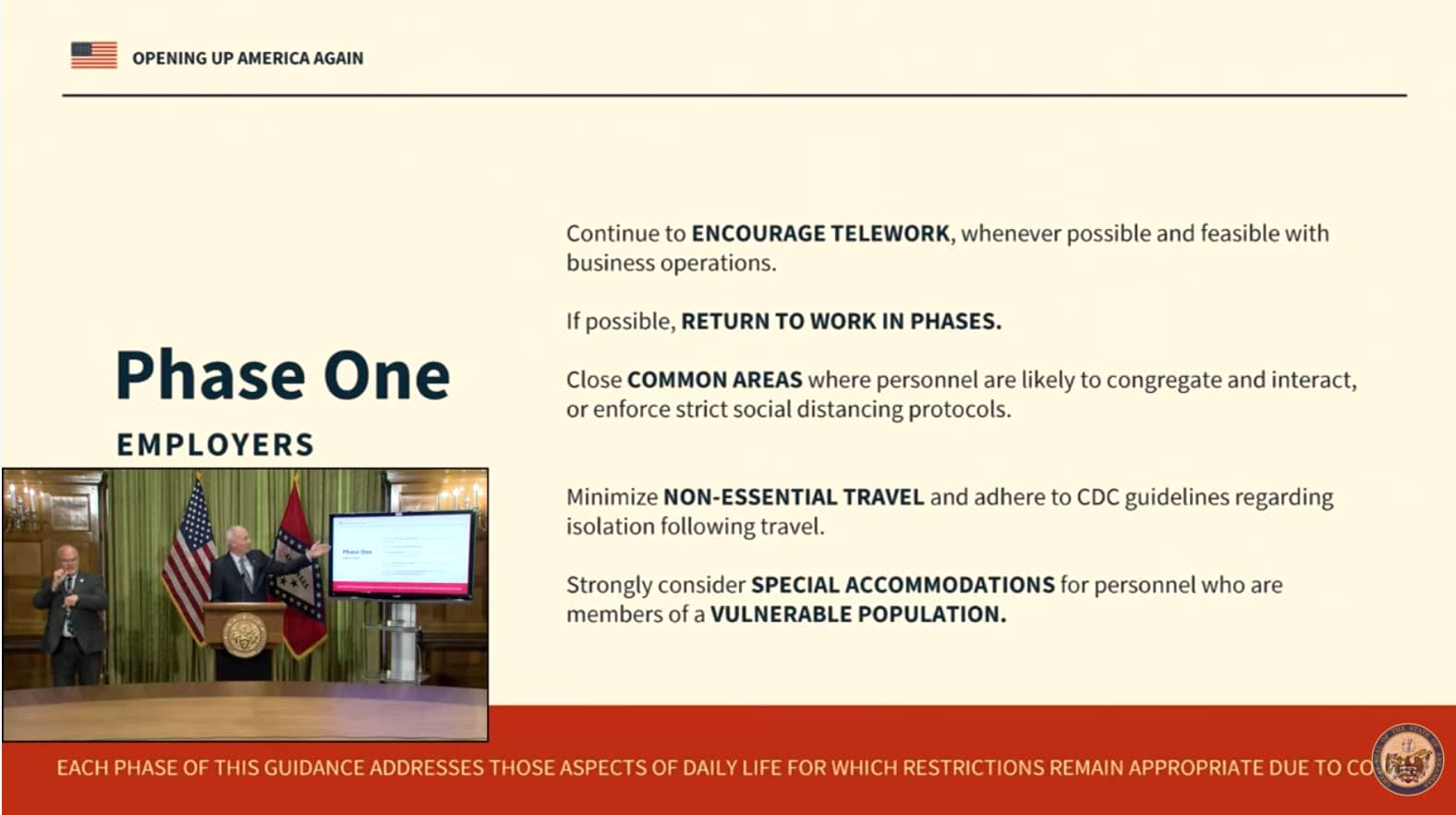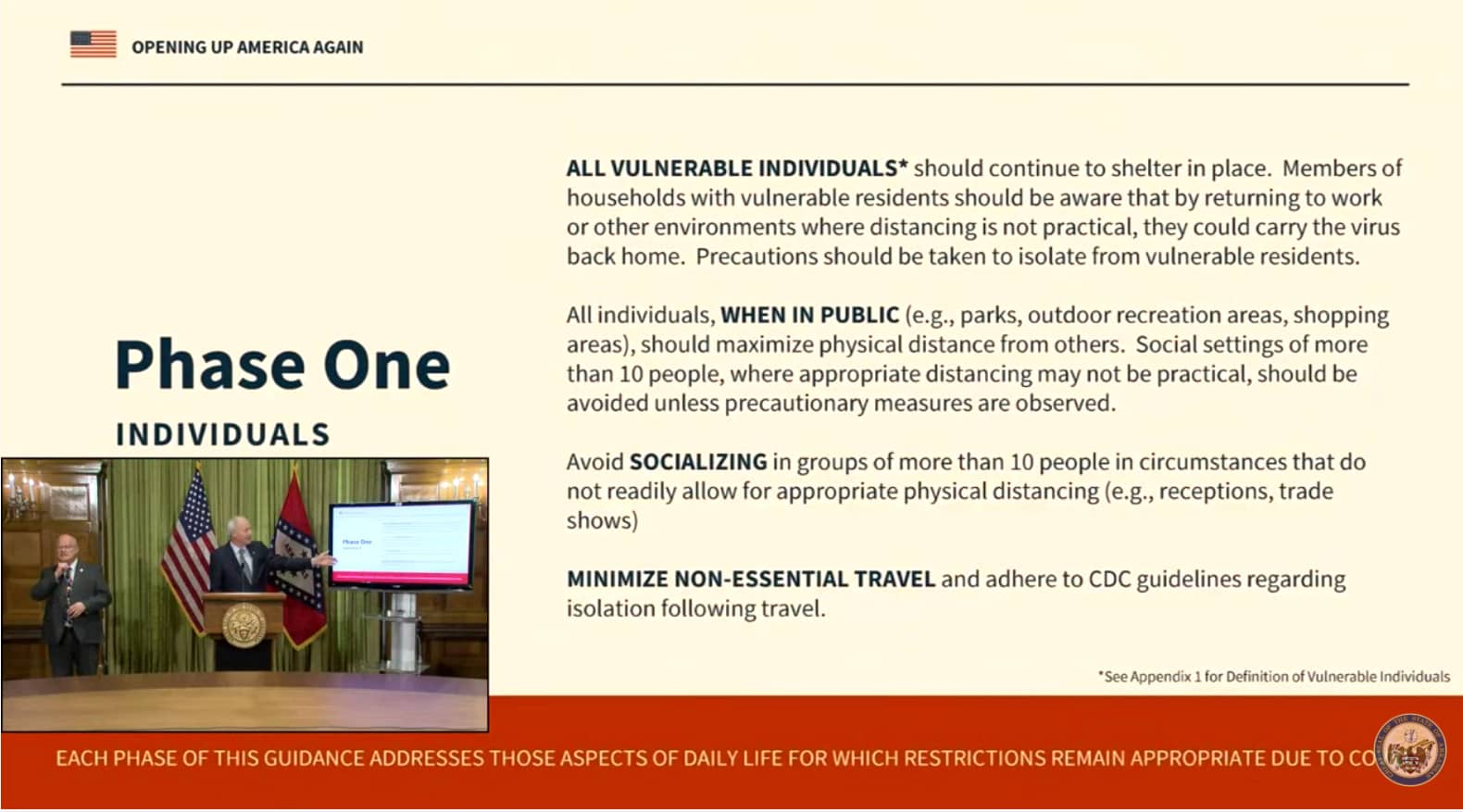 Officials noted residents will play a large part in meeting the target date by still strictly adhering to all the coronavirus-related guidelines both today and throughout a possible first phase reopening.
Secretary Dr. Nate Smith of the Arkansas Department of Health and a member of Arkansas' Medical Advisory Committee for Post-peak Coronavirus Response said there were four priorities when bringing the state back to normal post-peak:
restoring the economy in a timely fashion
protecting the state's most vulnerable
maintaining public health capacity
and, preventing a resurgence.
The governor and health officials admitted the state still has to work to do in meeting the criteria suggested by the Trump administration.
For instance, new cases from correctional facilities in the state will likely bring a boost Saturday to the current figure of positive cases in Arkansas of 1,695.
More barracks units at the Cummins state prison have been reported with positive cases. Smith noted there are 83 new cases from Cummins, bringing its total number to 129. There are now 57 positive cases among inmates and nine positive cases among staff at the Forrest City Correctional Facility. And in Little Rock Community Corrections, there are 62 inmates reported with positive cases and 27 staff members infected. 
Smith did note the Veteran's Administration Hospital is now processing tests with new equipment featuring a faster turnaround time. And officials expect to see downward trends related to the coronavirus in early May that should help meet the criteria. Hutchinson also presented a chart showing Arkansas at the bottom of regional states when it came to infection rates. (See below.)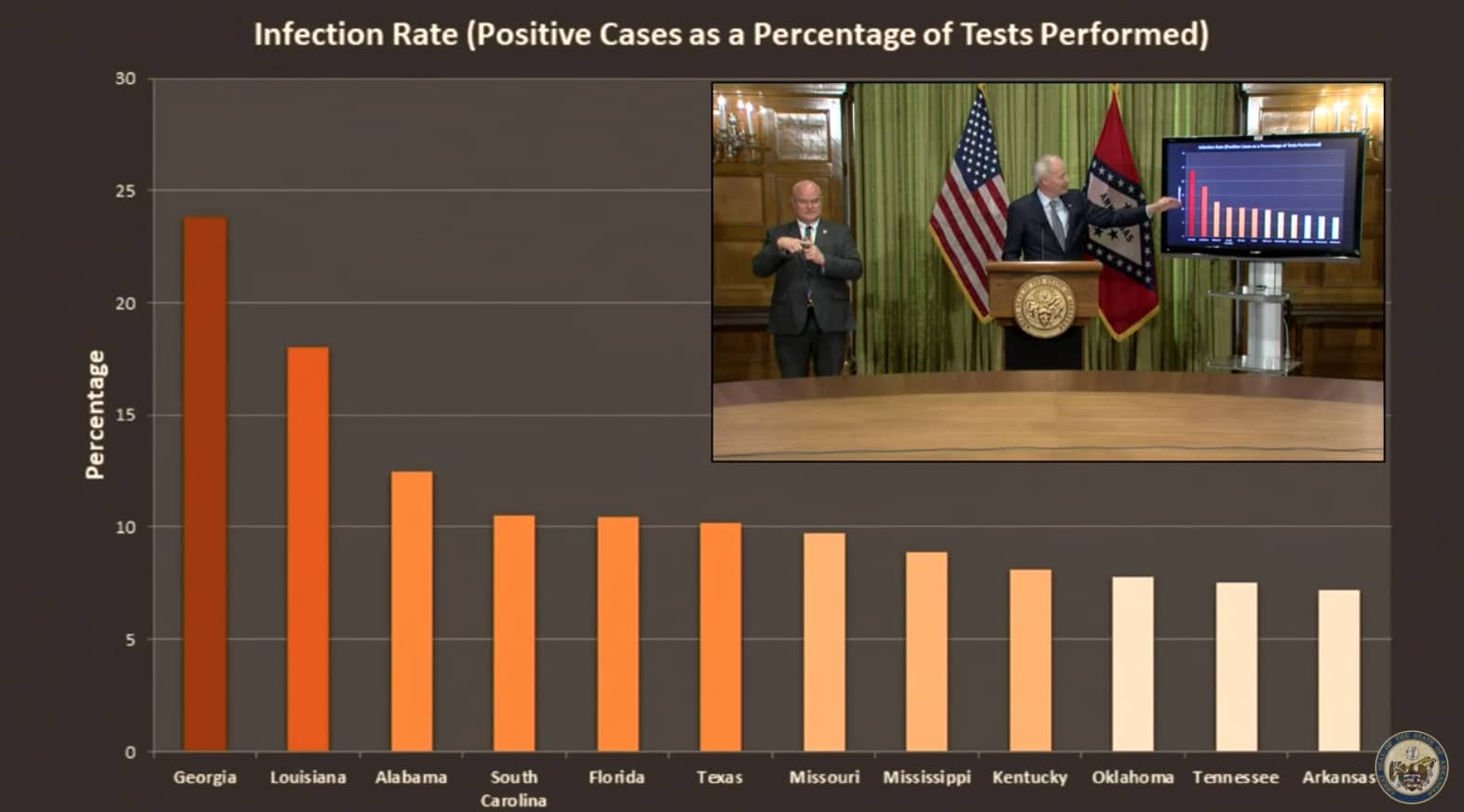 In other highlights from the Friday briefing:
No deaths have been reported. The total number stands at 37.
The current 1,695 positive cases figure is a jump of 75 from Thursday.
Ninety-three patients are hospitalized with 23 patients on a ventilator.
There are 228 healthcare workers reporting positive cases — up five from Thursday.
And there have been 593 recoveries reported — up 45 from Thursday.
***
The new White River Now mobile app has started featuring regular COVID-19 updates and podcasts. In addition to the updates featured on the White River Now family of radio stations, the COVID-19 podcast section also features new interviews with Stone County Judge Stacey Avey, Batesville Mayor Rick Elumbaugh, Independence County Judge Robert Griffin, state Sen. Stu Smith, and state Sen. James Sturch. Download the free White River Now mobile app today from the Google Play Store or the Apple App Store, and keep up-to-date on all local and state coronavirus information and to listen to the streams of White River Now radio stations.
We also carry live feeds of Gov. Asa Hutchinson's COVID-19's briefings on-air at Arkansas 103.3, online at White River Now's Facebook page, and through the Arkansas 103.3 stream on the White River Now mobile app on Arkansas 103.3.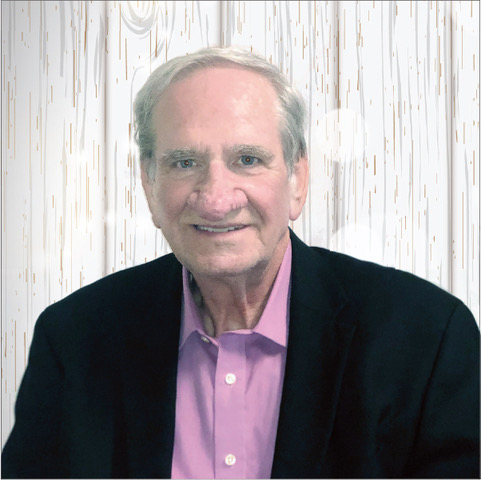 Get up-to-date local and regional news along with the latest sports and weather every weekday morning by listening to Gary B. on Ozark Newsline, broadcast from the First Community Bank Newsroom on Arkansas 103.3. White River Now updates are also aired weekday mornings on 93 KZLE, Outlaw 106.5, and 99.5 Hits Now. Have a news tip or event to promote? Email White River Now at news@whiterivernow.com. Be sure to like and follow us on Facebook and Twitter. Add don't forget to download the  White River Now mobile app from the Google Play Store or the Apple App Store.