Three different men that have been on parole were each arrested in separate cases involving meth possession in Independence County, according to documents filed Thursday in Independence County Circuit Court.
In the first case, Dillon Sallas, a narcotics investigator with the Batesville Police Department, made a traffic stop near the intersection of White Drive and Main Street on July 17 after observing a truck with two males not wearing their seat belts, according to court info.
After pulling into the lot of the Littlefield Express Station at the intersection, Sallas made contact with the driver of the vehicle and a passenger identified as Travis James Swift, 31. After both men admitted to forgetting to wear their seat belts, Sallas ran both subjects through dispatch. Both the driver and Swift were found to currently be on parole with search waivers on file, according to the affidavit for probable cause for arrest. 
After asking both men to step out of the truck, the affidavit said Swift informed Sallas that he had a small amount of methamphetamine in his shorts pocket. Sallas reported he found a plastic baggie with a "crystalline rock substance" that later tested positive as meth. Nothing else was discovered to be illegal, the affidavit said.
A check with the Arkansas Crime Information Center determined Swift has been previously convicted for one or more felonies and is subject to "enhanced imprisonment."
Swift is facing one felony count of possession of methamphetamine less than two grams.
His bond was set at $7,500.
***
The other two cases involve two different men at different residents on Camp Tahkodah Road. And both occurred on July 21.
According to court info, Chief Deputy Sheriff Aaron Moody and Detective Zachary Bailey of the Independence County Sheriff's Department were assisting Arkansas Community Corrections Officer Brian Gould at the residence of Buford Thomas Ferguson (pictured below, left), 35, a parolee on active supervision with a search waiver. After announcing their arrival, the officers found Ferguson in the rear of the residence and ordered him to the ground. 
After a search of Ferguson, the affidavit for probable cause for arrest noted Gould found "a clear glass vial containing a white crystalline substance in Buford's pant[s] pocket."
Moody also reported locating a glass smoking device with "residue" inside and syringes around the area where he and the other officers first encountered Ferguson. The affidavit noted Ferguson made a "spontaneous utterance that he was just trying to get rid of everything."
Ferguson was then transferred to the Independence County Detention Facility. The crystalline substance later field-tested positive as meth, the documents said.
He faces two felony counts: possession of two grams or less of methamphetamine and possession of drug paraphernalia with the purpose to inject, ingest, inhale, or otherwise introduce methamphetamine into the human body. 
Ferguson is also being charged as a habitual offender having previously been convicted of four or more felonies.
He's being held on a $5,000 bond.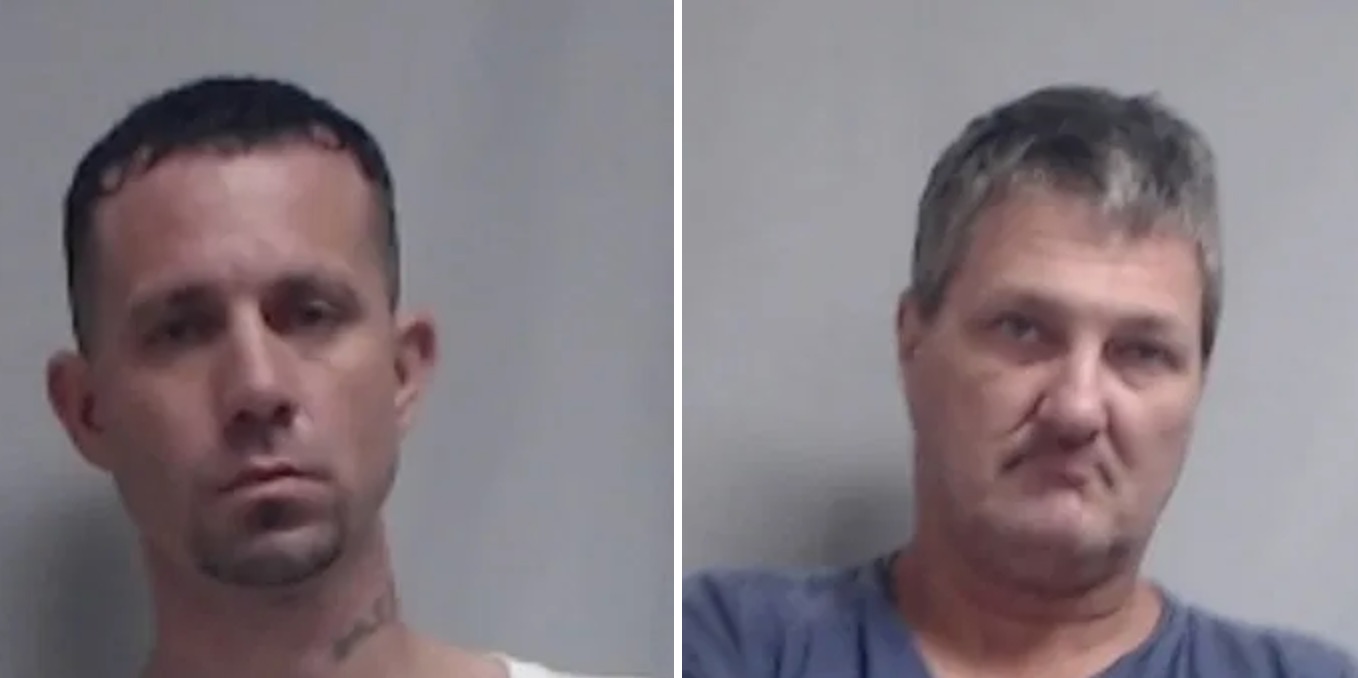 The other Camp Tahkodah Road case on July 21 involved the arrest of a man who was at  the residence of another parolee, Rodney Monroe Lee, was also arrested that day on meth charges. (Click here to read that story.)
According to the affidavit of probable cause for arrest, agents with the 16th Judicial Drug Task Force were assisting Arkansas Probation and Parole officers at the residence of Lee when they also discovered two men at the home. One of those men, identified as Tommy Leonard Costello (pictured above, right), 51, was found to be on active parole supervision with a search waiver.
After a search, the affidavit says a baggie with a "white crystalline substance" was found in Costellos's pocket and later field-tested positive for methamphetamine.
When asked about the substance and if it came from Lee, Costello advised officers he had purchased the meth "a short time ago" for "10 or 15 dollars," but stated he "didn't want to answer that question [about Lee]," according to the court information. 
Costello was arrested and placed in the Independence County Detention Facility. He is facing one felony count of possession of methamphetamine less than two grams.
Costello's bond was also set at $5,000.

Get up-to-date local and regional news along with the latest sports and weather every weekday morning by listening to Gary B. on Ozark Newsline, broadcast from the First Community Bank Newsroom on Arkansas 103.3. White River Now updates are also aired weekday mornings on 93 KZLE, Outlaw 106.5, and yourfm 99.5. Have a news tip or event to promote? Email White River Now at news@whiterivernow.com. Be sure to like and follow us on Facebook and Twitter. Add don't forget to download the White River Now mobile app from the Google Play Store or the Apple App Store.
For more local news and info from White River Now, head to our home page.