Featured image: Citizens Bank employees (from left) Jasmine Hilliard, Laura Vanmalden, Cindi Griffin, and Randy Seale place items in bags for delivery to Batesville area nursing home residents.
---
The prospect of nursing home residents feeling lonely and isolated during the holiday season inspired a group of Citizens Bank employees to do something about it.
"For years now, I have wanted to take my kids to the nursing homes at Christmastime to play cards or dominos with the residents, or just simply sit and visit with them," said Jasmine Hilliard, of the Citizens Bank Customer Service Center.
Personal experience with relatives has given her unique insight into the problem, Hilliard said.
"I grew up going to various nursing homes to visit my aunt who was in a terrible car accident that left her unable to walk," Hilliard said. "I was always bothered by the sight of other residents always alone and looking so sad."
This year's COVID-19 outbreak only made matters worse, as nursing homes were forced to severely restrict residents and their families from visiting one another in an attempt to avoid the spread of the deadly virus.
These restrictions, Hilliard said, have caused many affected people to become very depressed and lonely.
"This pandemic has affected each and every one of us in some way, with our nursing home residents who were already oftentimes alone on holidays, now completely isolated from spending time with their families," Hilliard said. "We wanted to do something for this special group of people that would help to brighten their Christmas and let them know they have not been forgotten."
Hilliard began discussing the possibility of assembling "goodie bags" for local nursing home residents with her co-workers, Randy Seale, Cindi Griffin, Laura Vanmalden, Sonia Medina, Candace Fulbright, and Roy Goodman.
Within a few hours of brainstorming about putting together "goodie bags" for nursing home residents, funds for the effort were contributed by Citizens Bank; fresh fruit was acquired from the Walmart store in Batesville; paper bags and peppermints were donated by the Sonic restaurant on St. Louis Street; handmade Christmas artwork to raise residents' spirits was created by the children who attend STARS Academy; and more.
"We were blown away by the kindness of each of these businesses," Hilliard said.
The bank employees were able to fill more than 300 bags, each containing an apple, orange, peppermints, and the handmade Christmas artwork.
"While this has been an otherwise very upsetting year, we wanted these important members of our community to know that Citizens Bank is still thinking about them," said Hilliard.
The goodie bags were delivered to Batesville Health and Rehabilitation, Wood-Lawn Heights, and Mountain Meadows Nursing & Rehab Center for distribution to their residents.
Hilliard said she was pleased to learn that other businesses and organizations in Independence County have also made cash donations so the nursing homes could purchase Christmas gifts for their residents.
"We just had to do what we could to give our nursing home residents some hope and happiness at Christmas," Hilliard said.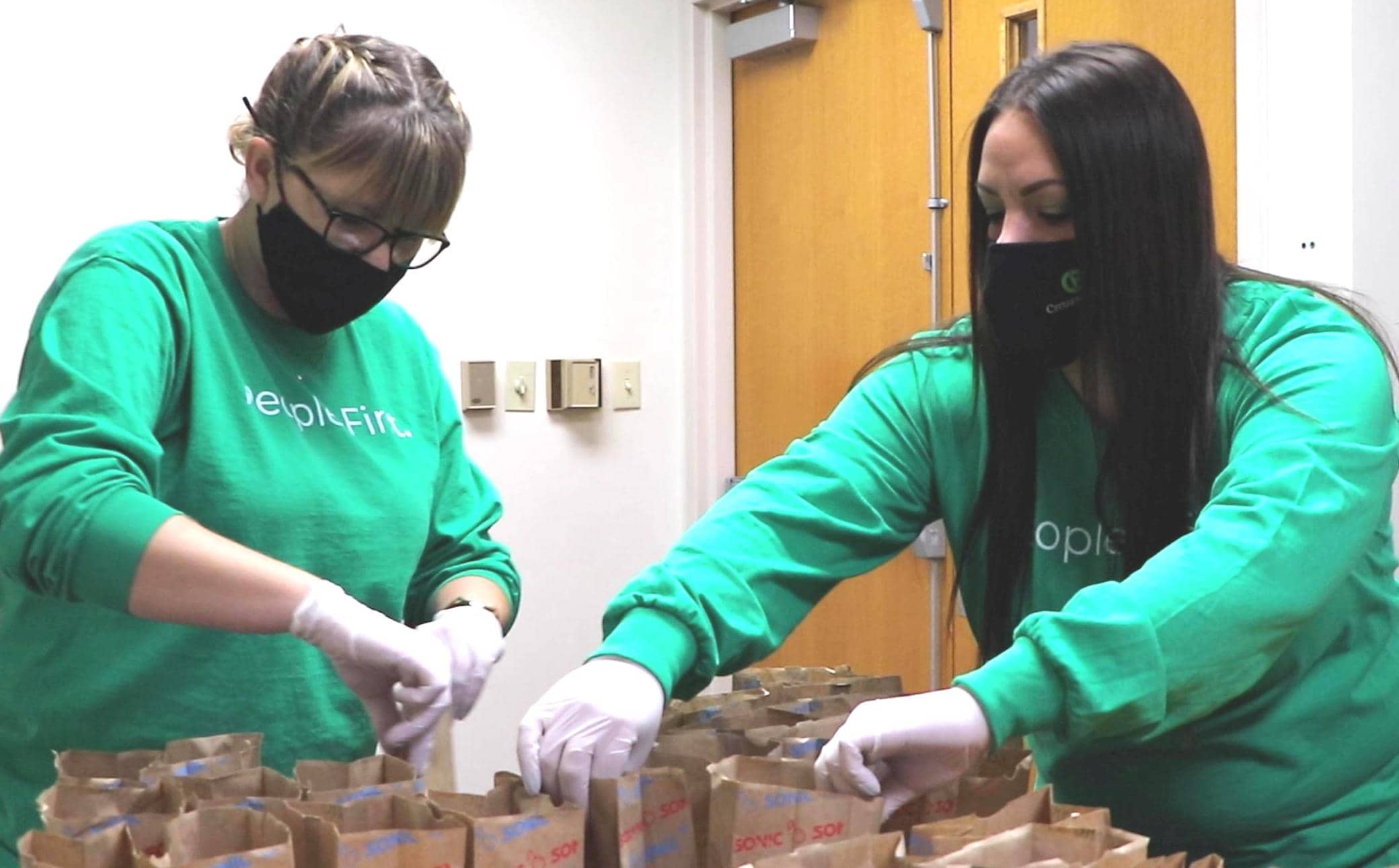 Jasmine Hilliard (left) and Laura Vanmalden of Citizens Bank prepare Christmas "goodie bags." / Images via Citizens Bank