The Charlie Jeffery/Joyce Vickery High School Bowling Tournament was held this week at Hollywood Bowl in Batesville. Area schools that competed included Batesville, Southside, Cedar Ridge, and briefly, Concord.
The tournament format was two games of six-person singles and three Bakers team games. Total combined pinfall from the singles and Bakers matches determined the placing. Because of COVID guidelines, Southside and Concord bowled on Monday (Jan. 25) and Batesville and Cedar Ridge bowled on Wednesday (Jan. 27). Concord, unfortunately, had to withdraw from the tournament due to their school-wide quarantine.
Boys Team Results:
1st place: Southside – 2435 total pincount
2nd place: Batesville – 2341 total pincount
3rd place: Cedar Ridge – 1850 total pincount
Girls Team Results:
1st place: Southside – 1959 total pincount
2nd place: Batesville – 1755 total pincount
3rd place: Cedar Ridge – 1369 total pincount
All-Tournament Team Selections – Placing was based on each individual's total combined score from their two games in the singles matches. The top six individuals were named all-tournament and received medals, and places 7-10 were named honorable mention and received certificates.
Boys All-Tournament Team:
1. Johnny Neel (Southside) – 434 (had tournament high game of 245)
2. Landen Hodge (Batesville) – 386
3. Antonio Ciamaricone (Southside) – 350
4. Caleb Teague (Batesville) – 335
5. Adam Denison (Southside) – 328
6. James Cleveland (Cedar Ridge) – 324
Boys Honorable Mention:
7. Ashton Wilkey (Southside) – 306
8. Daniel Paul (Batesville) – 301
9. Case Hodges (Cedar Ridge) – 276
10. Tyler Jones (Southside) – 275
Girls All-Tournament Team:
1. Sophia Strain (Batesville) – 376 (had tournament high game of 201)
2. Katelyn Barksdale (Batesville) – 330
3. BJ Williams (Southside) – 286
4. Katie Denison (Southside) – 275
5. Sarah Taylor (Batesville) – 263
6. Hope Sharp (Southside) – 262
Girls Honorable Mention:
7. Emilee Jones (Southside) – 239
8. Maddison Boyer (Southside) – 228
9. Maddy Holder (Cedar Ridge) – 218
10. Gwen Elwart (Cedar Ridge) – 215
:
Each recipient of the Charlie Jeffery/Joyce Vickery Scholarship received a certificate and a $300 scholarship to the school of their choice. The recipients were seniors who completed an application that was reviewed by the scholarship committee and members of various local organizations. The scholarship is funded by donations from local area businesses and individuals who are helping to promote the sport of high school bowling in our area.
The 2021 Charlie Jeffery/Joyce Vickery Scholarship Recipients:
From Concord: Maddie Decker, Nikki Duke, and Abigail West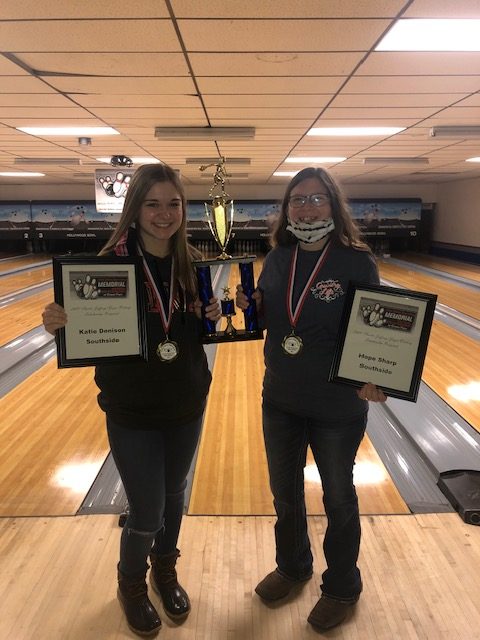 From Southside: Katie Denison (left) and Hope Sharp (right)
"First of all, this tournament is a wonderful event would not be possible without Hollywood Bowl, our sponsors, and several volunteers," said Southside Coach Fred Denison. "Even though it is a competition, we are all fans and supporters of every kid from every school this time of year, and this tournament is part conference tournament prep and part celebration for all the hard work these kids have put into the sport of high school bowling. To also be able to provide scholarships for kids in this area is a huge plus for this event, and all the coaches are very thankful to those who have contributed to this endeavor. This is the third year to have this tournament, and we are thankful that almost everyone was able to participate. I know that Concord was disappointed not to be able to come this year, but they are still able to participate in the conference and, it's hoped, state play in the coming weeks. I feel like they have a chance to do great things this postseason, as well as the rest of the schools in our house."
Denison was also complimentary of the competition.
"As far as the bowling goes, every school had some standout players and moments," he said. "Last year our house had two state champions with the Concord girls and Southside boys, a state runner-up with the Batesville girls, and 12 all-state selections. That kind of success will be hard to repeat, but there are several talented bowlers and teams this year who have the ability to possibly match that high mark of last season. For us, I thought we did very well. Obviously, when you win the titles in both the boys and girls division, you have to be very pleased with our kid's performances. I just hope we can continue to bowl as well or possibly better in the near future."
In other Batesville High bowling news, BHS bowlers traveled to Mountain Home Monday night to take on the Bombers.
The boys came home with a 10-3 win and the girls with a 9-4 win.
The high bowlers for the Lady Pioneers were Sophia Strain (159) and Katelyn Barksdale (157). High bowlers were Caleb Teague (216), Landen Hodge (202), and setting his personal record Dentton Winningham (177).
"The Pioneers really showed off with some of their best games this season. I'm very proud of their performance," said Coach Samantha Hogan.
---
Get up-to-date local and regional news along with the latest sports and weather every weekday morning by listening to Gary B. on Ozark Newsline, broadcast from the First Community Bank Newsroom on Arkansas 103.3. White River Now updates are also aired weekday mornings on 93 KZLE, Outlaw 106.5, and Your FM 99.5. Have a news tip or event to promote? Email White River Now at news@whiterivernow.com. Be sure to like and follow us on Facebook and Twitter. Add don't forget to download the White River Now mobile app from the Google Play Store or the Apple App Store.
Remember: Wear a mask. Wash your hands. Practice social distancing.