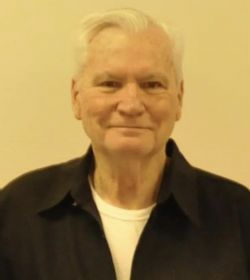 Doyle Lee Black Sr., 81, of Mt. Pleasant passed away Thursday, May 13, 2021.
He was born Feb. 16, 1940, in St. Francis, Arkansas to Paul Basil and Opal (Tate) Black.
Doyle was very strong in his faith. He was a friend to all who loved his family, children, and grandchildren. Doyle worked as a machinist for 45 years. He enjoyed woodworking, fishing, jewelry making, and going to flea markets.
Survivors include two sons, Paul Black (Deanna) of Carey, Ohio, Doyle Lee Black Jr., (Linda) of Mt. Pleasant, Arkansas; two daughters, Tammy Fulton and Teresa Havelka (Lon), both of Mt. Pleasant, Arkansas; one son-in-law, Tim Moser; fourteen grandchildren; twenty great-grandchildren; several nieces and nephews, and multiple cousins and friends.
He is preceded in death by his parents; wife, Betty Ann (Kirby) Black; daughter, Candace Black Moser; three sisters; one brother; one grandson, Nathaniel Fulton; and a son-in-law, Jesse Fulton.
Pallbearers are Joey Havelka, Aron Havelka, Logan Black, Brandon Black, Noah Black, Michael Cohoon, Richard Cohoon, and Cameron Cohoon. The honorary pallbearer is Kevin Black.
Graveside services will be held Monday, May 17, 2021, at 11:00 a.m. at Reeves Cemetery in Guion with Bro. Elvis Sneather officiating under the direction of Roller-Crouch Funeral Home.
Memorials can be sent to Teresa Havelka, 2498 Stella Loop, Mount Pleasant, AR., 72561.