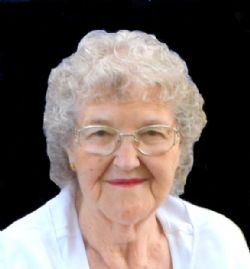 Nada Marie Williams Stewart was born Jan. 27, 1933, in Mountain View, Arkansas, the first of two daughters born to Ed and Jessie (Lourance) Williams. She departed this life May 12, 2021, in Mountain View, Arkansas, at the age of 88. On Aug. 1, 1953, she married Joe Stewart and they had two children, Brinda and Terry.
Nada was a housewife for many years, spending her time cooking, sewing, and taking care of her family and home. She worked at Blanchard Shirt Factory from 1967 until 1996. She was known for being a good cook and was happiest when cooking for others. She loved her family very much and was "Granny" to all her grandchildren and great-grandchildren. She was a member of Elizabeth Baptist Church and served as church treasurer for over 30 years.
Nada is survived by her husband of 67 years, Joe; one daughter, Brinda Long and husband Randy; one son, Terry Stewart and wife Rachelle; four grandsons, Matt Long and wife Tonya, Rusty Long and wife Mary Ann, Dustin Stewart and wife Aubrey Ann, and Dylan Stewart and wife Haley; eleven great-grandchildren, Haley, Hayden, Kiley, Kassidy, Chloe, and Grant Long, and Rush, Davis, Cooper, Crawford, and Clay Stewart. She is also survived by her sister, Shirley Bailey.
She was preceded in death by her parents and one granddaughter, Holly Long.
Visitation is Friday, May 14, 2021, at Roller Crouch Chapel from 6-8 p.m. Services are 10:00 a.m Saturday, May 15, 2021, at Roller Crouch Chapel with Matt Long, Dylan Stewart, and Randy Long officiating and burial following at East Richwoods Cemetery.
Pallbearers are Matt Long, Rusty Long, Dustin Stewart, Dylan Stewart, Hayden Long, and Randy Bailey.