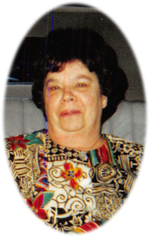 Carolyn June (Hodge) Snyder of Newport, departed this life on Wednesday, May 12, 2021, at the age of 87. She was born February 28, 1934, in Marked Tree, the daughter of Herman and Mae (Lambert) Hodge.
She was a graduate of Beedeville High School and a member of the Algoa Church of Christ. She worked as a telephone operator as a young woman and especially enjoyed being a homemaker. She enjoyed reading and watching Fox News. She especially loved spending time with her family and cooking for her kids.
She was preceded in death by her husband of 57 years, Thomas "Buck" Snyder; one son, Thomas Dewayne Snyder; one brother, Gerald Hodge; one sister, Marion Aldridge; and her parents.
She is survived by one son, Terry Lynn Snyder, and wife, Belinda Gail, of Newport; one daughter, Vickie Mae Snyder of Gramercy, Louisiana; one brother, Bill Hodge of Algoa; three sisters, Rosella Jackson of Balch, Bobbie Cox of Newport, and Patty Mann and husband, Jerry of Newport; four grandchildren, Joshua Snyder and wife, Crystal, Carrie Ann Skinner, Rachel Whisenhunt and husband, Kyle, and Donnie King; six great-grandchildren, Hannah Snyder, Bobby Robb, Dustin Blayze Way, Abigail Whisenhunt, Lydia Snyder, and Jordyn Whisenhunt; four great-great-grandchildren, Braylee Robb, Tenley Robb, Cache Robb, and Maverick Robb.
Graveside Services are 11:00 a.m. Monday at Balch-Johnston Cemetery, with Mr. David Howard officiating. Friends may visit at the funeral home, Monday, 10:00 a.m. until 10:40 a.m.
Those honored to serve as pallbearers are Glen Smithee, Levi Carlton, David Huckabee, Bobby Robb, Mike Farrah, and Ernie Jewell. Cortez Aitkens is honorary pallbearer.
Memorials may be made to the Algoa Church of Christ, 1561 Highway 37 S, Newport, AR 72112