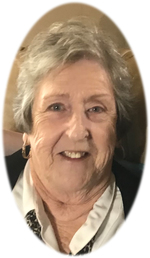 Carlotta Gale (Koontz) Carlton of Newport, departed this life on Monday, May 17, 2021, at the age of 72. She was born June 27, 1948, at the Johnstown Community, the daughter of William Arthur and Lucy (Cooper) Koontz.
She was a humble and loving person, who put her servant's heart to use as a caregiver for the elderly. She loved taking care of people and often said that she learned many life lessons from those she cared for.
During her life, she also worked in the cafeteria at Beedeville School and Newport Hospital.
She enjoyed making ceramics, St. Louis Cardinal Baseball and traveling. She especially loved spending time with her family. She was a devoted Christian, wife, mother, grandmother, and sister. She always placed her trust in the Lord.
She was a member of the Beedeville Church of Christ, where she loved attending her Wednesday night Ladies Bible Class.
She was preceded in death by her husband, Woodrow Wilson Carlton; one son, Gerald Carlton; two daughters, Charlene Avery and Linda Sue Beard; one brother, Franklin Truman Koontz; two sisters, Winfrey Lee Koontz and Betty Ann Koontz; and her parents.
She is survived by five sons, Rodney Carlton and wife, Michelle, of Tiffin, Ohio, Heath Carlton and wife, Caroline of Batesville, Levi Carlton and wife, Tanaya of Newport, W.N. Carlton, and wife, Terry, of Beedeville, and Gary Carlton and wife, Maria, of Cash; six grandchildren, Ashley Wells, Caleb Eaton, Brittany Wells, Lindlee Carlton, Emma Carlton, and Lucy Carlton; three great-grandchildren, Eli, Zayden, and Zuri; her special friend, Joann McElyea; many nieces, nephews, and a lifetime of friends.
Friends may visit at the funeral home Wednesday, 6:00-8:00 p.m. Funeral services will be 2:00 p.m. Thursday, May 20, 2021, at the Beedeville Church of Christ with David Cannon and Dr. Gary Elliott officiating.
Those honored to serve as pallbearers are Danny Doyle, Randy Wagner, Jim McElyea, Bo Cooper, Edwin VanWinkle, Jeff Long, and Ricky Doyle. Honorary pallbearers are Harold Madden, Scott Avery, Wayne Carlton, Barry Carlton, and Lee Carlton.
Memorials may be made to Children's Homes, Inc, 5515 Walcott Road, Paragould, AR 72450.