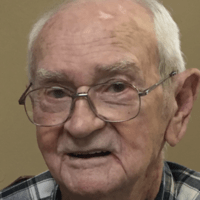 Nath Elton Davenport, 97, of Melbourne departed this life on Friday, June 11, 2021, at Melbourne.
He was born on April 17, 1924, at Bergen Lake, the son of Nathan and Telena Bengel Davenport.
Elton spent many of his younger years working as a carpenter in the Newport area; after moving to Rosie, Arkansas, he and his wife, Jean started the Davenport Starter and Alternator business in Batesville, Arkansas, where they worked until retirement.
He spent the last several years at Pioneer Rehab and Nursing at Melbourne, Arkansas, where he was loved and cared for and where he made many friends.
Elton was preceded in death by his wife, Jean Tidmore Davenport; his parents; and brother, Wes; and sisters, Irene, Alberta, Ruby Neal, and Telena.
He is survived by his daughter, Coralee Engles, and husband Larry of Magness, Arkansas; granddaughter, Kelli Blackman and husband, Darren of Newark, Arkansas; and two great-granddaughters, Sydney Blackman and Shelby Blackman, also of Newark, Arkansas.
Burial will be 10:00 Wednesday, June 16, 2021, at Walnut Grove Cemetery in Newport.