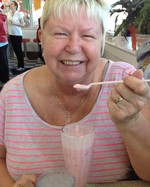 Sarah Lynn Feito passed away on June 9, 2021, at the age of 69. She was born June 28, 1951, the daughter of Neal and Dortha (White) Metcalf.
Sarah was a 1969 graduate of Newport High School in Newport, Arkansas, and had resided in Virginia for over 45 years.
She retired from Zim America in July 2020 following 50 years of service in transportation.
Sarah loved her work and enjoyed her membership in Traffic Club.
She had a thirst for knowledge, earning two Master's Degrees later in life. Sarah's degrees were in Business and Psychology. She had a love of life and an unquenchable spirit. Sarah was a wonderful mother, grandmother, and aunt.
She was a great sister and was so loved by many people.
On May 24, 2003, Sarah married the love of her life, Ramon Feito, and together they spent 18 years.
She was preceded in death by her parents; and two sisters, Karen Metcalf and Cathy Bullock Mills.
Sarah is survived by her husband of 18 years, Ramon Feito; her children, Terri Clinger and husband, Richard, Paul Szabo and wife, Jenni, and Angela Szabo and stepson, Robert Feito; one sister, Rebecca Etheridge, and husband, J.D., of Diaz; seven grandchildren, Rachel, Jacob, Henry, Kayla, Ethan, Harper, and Brenna; her nieces and nephews, Aaron Bullock and wife, Daina, Victoria Etheridge and Laura, Sarah Caraway and husband, Steven, Sandra Smith, Crystal Eassa and husband, Jerrod, and JR Smith and wife, Morgan; several great-nieces and nephews; and a lifetime of friends.
Friends may visit at the funeral home, Monday, 5:00-7:00 p.m. Funeral services are 10:00 a.m. Tuesday at Jackson's Newport Funeral Home Chapel with interment in Sandhill Cemetery.