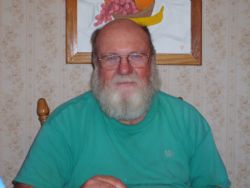 Frankie Wayne Rider Sr., 83, of Locust Grove, Arkansas went home to be with the Lord Tuesday, June 15, 2021, at 7:26 a.m. at his residence.
He was born April 22, 1938, in McHue, Arkansas.
He is the son of Chester Rider and Frances Haertlein Bates.
He was a proud graduate of Concord High School in 1956. He attended college at ASU.
Frankie worked in the shoe industry as an executive and salesman.
Upon his retirement, he was the owner of Rider Farms in Concord, Arkansas. He was the oldest member of Concord First Baptist Church. He loved God, country, family, and friends.
He enjoyed traveling the U.S. as an Elvis fan, playing with his grandchildren, and great-grandchildren. In short, Frankie loved everyone and everything.
He was preceded in death by his parents; brother, Edward Rider, and sister, Jean Womack.
Frankie is survived by his wife of 64 years, Patricia Taylor Rider, of the home; sister-in-law, Maxine Rider of Wichita, Kansas; half-brother, Jimmy Rider (Lea Rider) of Tunica, Mississippi; daughter, Sonja Yates (Roger Yates) of Locust Grove; son, Frankie Wayne Rider II (Jami Rider) of Batesville; grandchildren, Anthony-Blake M. Ghannad (Jennifer Mazuera), Natasha Alleche (Riadh Alleche), Chelsea Ghannad (Shawn Campbell), and Erin Rider; great-grandchildren, Kadence Ghannad, MaKinlee Ghannad, Pasha Ghannad, Zakariah Alleche, Rayan Alleche, and numerous nephews, nieces, and cousins.
Pallbearers are Frankie Wayne Rider II, Anthony-Blake M. Ghannad, Chris Tharp, David Cartwright, Roger Yates, and Mike Hopper.
Honorary pallbearers are Jerry Haertlein, Steve Millikin, Jimmy Cartwright, Virgil Taylor, and Gregg Taylor.
Funeral services will be held Friday, June 18, 2021, at 10:00 a.m. at the Roller-Crouch Chapel in Batesville with Daryl Sellers officiating. Burial will follow at Alderbrook Cemetery.
Visitation will be from 5:00 p.m. until 7:00 p.m. Thursday, June 17, 2021.