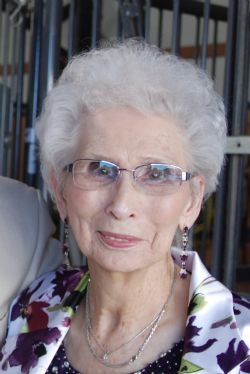 Joyce Skinner, 91, of Batesville, Arkansas passed from this life on July 2, 2021, in her home. Daughters, Kim and Kristi, and her sister Mary were at her side. Joyce was born in 1930 near Calico Rock, Arkansas to Robert and Lena Guthrie. She attended school in Calico Rock, graduating in 1949, and from the Baptist School of Nursing in Little Rock in 1952, before beginning her nursing career in Batesville. Joyce went on to become a well-respected administrator at Woodlawn Nursing Home in Batesville until she retired in 1993 after 27 years of service. She was an outstanding administrator and devoted to the patients under her care. Families continued to thank her for what she did for their loved ones more than 25 years ago.
Joyce loved Christmas carolers, cookie jars, coffee, bees, butterflies, and birds. She fed and joyfully watched hummingbirds in the summer and redbirds in the winter. She loved cheering on the Razorback basketball team and rarely missed watching a game.
Joyce dearly loved her children, grandchildren, and great-grandchildren. She learned to use technology so she could receive digital pictures, videos, and FaceTime calls with her family. Joyce was thoughtful and caring. She loved to talk and laugh with her friends and family, always encouraging us with her positive attitude and wise counsel.
She is survived by daughters Kim Skinner of Batesville, Kay Humbard (Philip) of Springdale, and Kristi Johnson (Patti Cummings) of Ward; grandchildren Sarah Bookout (Johnny) of Searcy, Morgan Johnson of Little Rock, Jay Humbard (Katie) of Fayetteville, Will Johnson of Siloam Springs, and Mitchell Humbard (Kelley) of Fayetteville; great-grandchildren Caleb Crabtree, William G. Thompson, Austin Crawley, Kennedy & Arianna Woods, Aiden & Liam Johnson, Parker, Kaden, Jackson, & Hallie Humbard; sisters Robbie Scott of Lees Summit, MO & Mary Thurman of Batesville; bonus grands, many well-loved nieces, nephews & friends and especially life-long best friend Joyce M. Porterfield of Moore, OK. Joyce is preceded in death by her husband Herbert Skinner, parents Robert & Lena Guthrie, and brothers Ernest & Tom Guthrie.
Joyce is interned at Oaklawn Cemetery. A memorial service will be held at 3 o'clock, on Friday, July 23, 2021, at West Baptist Church, Batesville. Honorary Pallbearers include Jay Humbard, Mitchell Humbard, Will Johnson, Caleb Crabtree, William G. Thompson, and Austin Crawley.
The family would like to thank the staff of Arkansas Hospice in Batesville for their respectful and thoughtful care. In lieu of flowers, donations in honor of Joyce may be made to Arkansas Blood Institute (http://arkbi.org) or your local blood bank.