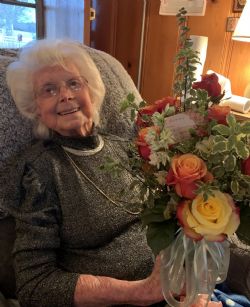 Elma Bonnie (Fletcher) Wilson, 95, of Timbo, Arkansas passed away peacefully at home on July 11, 2021.
Elma was born on Jan. 23, 1926, in Onia, Arkansas to the late Emmitt and Ella (Balentine) Fletcher.
She was a devoted member of Bethany Missionary Baptist Church. Elma had many hobbies that she enjoyed throughout her life including quilt making, gardening, canning, sewing, and taking the fifth wheel camping. She was an incredible cook who made a fantastic chocolate pie, and if anyone stopped by her house she was always ready to feed them. Later on in life, Elma worked at Blanchard Shirt Company, Oak Grove Nursing Home, and Stone County Medical Center for ten years. However, God and her family were the most important part of her life. She was a loving wife, mother, sister, friend, grandmother, and great-grandmother who loved doting on her grandchildren. She will be greatly missed by all of her loving family and friends.
Elma is survived by her two daughters, Joanie Cromwell and husband Jason, Janet Eunson and husband Bob, and her son, Jerry Wilson and wife Tammy; siblings, Mavis Lindsey, Marilea Duke, and Eldo Fletcher; grandchildren, Kimberly Wilson, Matthew Kreth, Valerie Wilson, and Phillip Kreth; two great-grandchildren, Ethan Kreth and Lilah Kreth; along with many extended family and friends.
Elma was preceded in death by her husband, Olen Wilson; parents, Emmitt and Ella (Balentine) Fletcher; siblings, Elmer Fletcher, L.E. Fletcher, J.L. Fletcher, and Lenvel Fletcher, and Gladys Morrison.
Visitation is Thursday, July 15, 2021, at Bethany Missionary Baptist Church in Onia, Arkansas from 1:00-2:00 p.m. Funeral services will follow the visitation beginning at 2:00 p.m. with Brothers Gary Don Fletcher and David Fletcher officiating. Interment will follow the service at Pordue Cemetery in Onia, Arkansas.
Pallbearers are Eddie Cowell, Willie Miller, Wayne Fletcher, David Fletcher, Fred Fletcher, and Larry Fletcher.