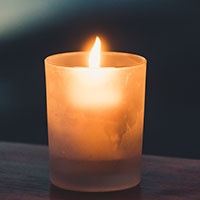 Lydia Lou Black, 58, of Cushman passed away Thursday, July 15, 2021, in Batesville. Lydia was born Aug. 17, 1962, in Davenport, IA to the late Roy L. Robertson and JoAnn (Comstock) Robertson. She was a dedicated Registered Nurse and a loving mother, sister, and grandmother. Lydia lived her life to the fullest. She was very headstrong and stood up for what she believed in. She enjoyed being outdoors, whether it was fishing, riding horses, hunting arrowheads, or riding motorcycles. She touched the lives of all she knew in a positive way. Her friends were more like extended family. She leaves behind a legacy of strength, hard work, and love.
She is preceded in death by both of her parents; her two brothers, Joe D. Robertson and Rodger Robertson; and her two twins "shooting stars" grandchildren. She is survived by her son Samuel Black (Tegan Fanders); her two daughters, Annie Milliser (Dennis) and Mariah Miller (David); her two brothers, Roy P. Robertson, and Berny Robertson; her sister, Dianna Sickels; her seven grandchildren:  Latasha Robertson, Huston Holley, Hannah Massey, Kolton Miller, Dixie Miller, Jase Milliser, and Carl Milliser; and many extended family members and beloved acquaintances.
Arrangements are entrusted to Willis Funeral Service of Batesville, AR. The family will host a memorial service, the time and place will be announced at a later date.