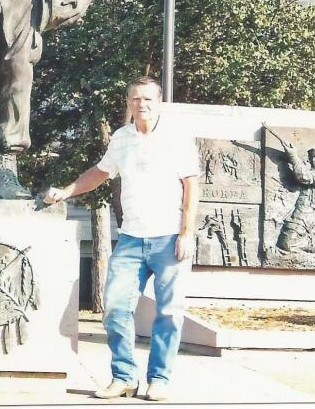 George Edward Rushing of Floral, Arkansas went to be with our Lord and Savior on Sept. 2, 2021, at the VA hospital in Little Rock Arkansas.
George was born on April 20, 1947, to Johnny and Alice Rushing.
George was married to his beautiful wife Ann Rushing, they enjoyed 35 years of marriage, and were loving soulmates.
George honorably served his country in the Vietnam War, in the United States Army, he was proud to serve the county he loved and retired after 22 and half years of service. George later retired from farming in Louisiana, which he enjoyed.
George enjoyed hunting, the outdoors, gardening, and had a great passion and love for animals of all kinds and his beloved pets. George always enjoyed visiting with friends and family and enjoyed making them laugh. He cared about treating people right and would help anyone he could. His compassion, love, and generosity to all who needed it will never be forgotten.
George always loved a great cup of coffee and was a man who never met a stranger. His gift to gab and making people laugh was appreciated by all.
George along with his wife are members of Concord Missionary Baptist Church, he had a strong faith and loved the Lord, he was a devoted husband, had a passion for life, he showed patience, love, and understanding, and was a man of great integrity.
He will be dearly missed by all who knew him and by all of his extended family.
George will never be forgotten and the loving memories of him will be forever in our hearts.
He is preceded in death by his parents Johnny and Alice (Williams) Rushing, a sister Faye King, two brothers Johnny D Rushing, and Waylon Rushing.
He will be missed by his brother Don Rushing of Gilbert Louisiana, Two sisters Vivian Bruce of Newellton, Louisiana, Sherill McMurray of Newellton, Louisiana, and by many close relatives and numerous nieces and nephews.
Services are entrusted to Willis Funeral Service of Batesville. Concord Missionary Baptist Church in Concord, AR hosted a visitation Tuesday, Sept. 7, 2021. George's final resting place will be at Pleasant Plains, Arkansas.
Honored to serve as pallbearers are Baron Rushing, Matthew Anderson, Tyler Lisenbee, Gaylon Scroggins, Joshua Scroggins, and Zachary Scroggins. The family would like to recognize the following persons as honorary pallbearers: Anthony Scroggins, Tracy Scroggins, and Raymond McPike.