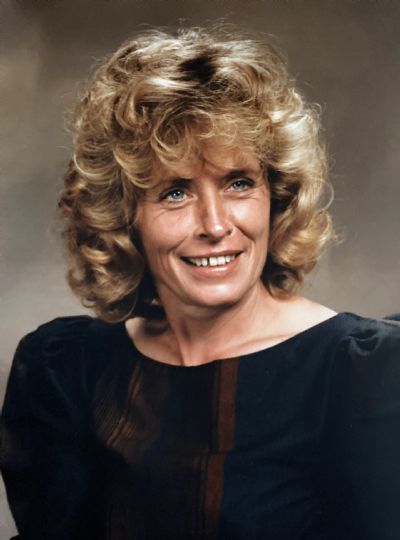 A Letter From Her Family
Her last few days on this earth, though her body was frail and tired, Brenda Joyce Cooper's spirit was full of determination to spend just a little more time surrounded by those who loved her. Like she always did, Brenda lived life on her own terms and left the arms of her family to be in the eternal care of Jesus before the light of a new day broke on Wednesday, September 8th. As she peacefully passed that early morning, even the blooming summer lilies tilted their heads in the loss of a woman who taught and gave us so much. We learned a lot over the years, like when to work and when to rest, though there wasn't much resting when it came to her, how to bring a plant back to life, how to burn a good steak, how to preserve all the tasty foods we grew together, how to pick the best tv shows, what it takes to be a good woman, and how to be hard-headed and stick to your guns. In her 77 years of life, she experienced storms and sunshine, but no matter the circumstance she always remained compassionate, devoted, humorous, ambitious, and generous. To say she was hardworking is an understatement. Brenda gave everything she had to garden to provide meals for her family, planting beautiful flowers that brought her joy, farming and caring for the funny little pigs she loved, cooking delicious meals, creating enough quilts to cover all the children of this county, and taking care of the people she adored. She knew exactly what she liked and didn't like, and she made sure we knew it too. She had a life-long love affair with Coca-Cola, pasta and potato salad, deviled eggs, bell peppers on sandwiches, and any dessert you can imagine. Not necessarily in that order. When she wasn't working, you would most likely catch her shopping the Kohl's sale, yelling at fast cars at NASCAR on weekend trips with her sisters, spoiling her little bratty dogs, spending time at the Lighthouse Church, or being a pushover to her grandchildren. A strong-willed but kindhearted wife, mother, grandmother, daughter, sister, and friend; this last year through her hard fight she still poured so much life into us. Our family and community came together and supported one another, loved one another, had difficult talks, listened to her stories and life experiences, laughed, cried, and shared meals together and got to experience taking care of a woman who had always taken care of everyone else. We grew in heart, in strength, in family bond, and in spirit, remember to never take a single day for granted because Brenda sure didn't. She always picked herself up and carried on, being at peace knowing that the good Lord had her in His hands. And that's just what she would want for all of you today. There may be rocky roads ahead and tall hills to climb but together we can get through it one day at a time.
So when the cold begins to fade and the bees begin to hum, look to the lilies the sunshine has fed and remember her at peace, lifting your head.
Survivors include her husband, Bill Cooper; daughter, Carla Osborn (Troy) of Floral; two sons, Ludy Cooper (Cathy) and Willy Cooper both of Concord; three brothers, Dwain Biddle (Vikki) of Plainsfield, Indiana, James Biddle of Noblesville, Indiana, and Dennis Biddle of Tipton, Indiana; four sisters, Anita Foulke (Larry) and Charlotte Jennings both of Sheridan, Indiana, Diana Jackson of Atlanta, Indiana, and Floretta Rogers (Roy) of Richmond, Kentucky; eight grandchildren, Adam Osborn (Calah), Aaron Osborn (Haelea), Buz Cooper (Maranda), Clifford Cooper, Mikey Cooper, Tori Litaker (Keaton), Cory Cooper and Kody Cooper; four great-grandchildren, Lettie Osborn, Brylee Cooper, Wesley Cooper, and Miracle Cooper; and numerous nieces, nephews, cousins, and friends.
She was preceded in death by her parents, Ludovic Edgar Biddle and Mary Jane Irick Biddle; son, Carl "Pete" Cooper; two brothers, Edgar Biddle and John Biddle; and sister, Evelyn Coffman.
Pallbearers are Adam Osborn, Aaron Osborn, Keaton Litaker, Buz Cooper, Mikey Cooper, and Jeffery Montgomery.
Honorary Pallbearers are Cory Cooper and Bobby Montgomery.
Funeral services will begin at 10:00 a.m. Friday, Sept. 17, 2021, at the Christian Lighthouse Church in Drasco with Bro. Paul Johnson officiating. Burial will follow at Cooper Cemetery in Concord.
Visitation will be held from 5:00-7:00 p.m. Thursday, Sept. 16, 2021, at Roller-Crouch Funeral Home of Batesville.