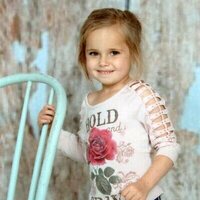 Kayle Grace Aldrich, 5, gained her angel wings on Thursday, Sept. 9, 2021.  She was born July 5, 2016, to Daniel Wesley Aldrich and Jennifer Grace (Dawson) Aldrich.
Though Kayle didn't live many years on this earth, she deeply touched the lives of so many around her.
She was our beloved, happy, ray of sunshine that has left us with so many happy memories that we are smiling through our tears.  She enjoyed playing tee-ball with all her teammates.  She liked horses and loved the movie Frozen.  Her favorite thing to do was going to the creek with her family.
She is survived by her parents, her brother, Landon Drake Aldrich; her sisters, Lexie Danielle Dawson and Laynee Kay Aldrich; her paternal grandfather, David Aldrich of Cord; her paternal grandmother, Wanda Aldrich of Charlotte; her maternal grandfather, Donald Eugene Dawson (Faye) of Gastonia, North Carolina; her maternal grandmother, Linda Smith (Ronald) of Baltimore, Maryland; her uncles, Dustin Dawson of Gastonia, North Carolina and Ryan Gipson of Charlotte; her aunts, Joy Stamey of Gastonia, North Carolina and Kay Gipson of Charlotte; and a host of great aunts and uncles.
Service will be Thursday, Sept. 16, 2021, at 10:00 a.m. at Cord Baptist Church.
Visitation will be Wednesday, Sept. 15, 2021, from 5:00 – 7:00 p.m. at Dillinger Funeral Home.  Interment will be at Hopewell Cemetery in Cord.