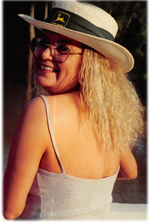 Janet Kay (Goldman) Turner of Newport, Arkansas, departed this life on Friday, Sept. 17, 2021, at the age of 71.
She was born July 23, 1950, in Newport, the daughter of W.O. "Whistle" and Patricia Ann (Cash) Goldman.
Turner was a graduate of Newport High School. She retired from Wal-Mart after 22 years of service and had worked as office manager for Dr. Paul Hergonroeder several years prior.
She was an avid outdoors-lady, who enjoyed watching animals in the wild, riding four-wheelers, and riding back roads. Ms. Turner was a crack shot with a .22 rifle and especially loved spending time with her family.
She was preceded in death by one son, Shawn Turner; and her parents.
Turner is survived by her life partner of 22 years, Tom Jones of Newport; one step-son, Cord Jones, and wife, Tiffany of Greenbrier; one sister, Sandy Jo Goldman of Remmel; one grandchild, Lane Jones; her nieces, Kelly Goldman, Madison Randolph, and Tayah Randolph; many other families, and a lifetime of friends.
Visitation is Monday, beginning at 9:00 a.m., at the Remmel Cemetery Pavilion, with graveside services following at 10:00 a.m. at Remmel-McCall Cemetery.