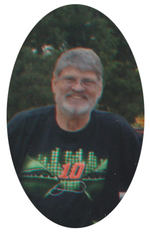 Bobby Lee Cason departed this life on Friday, Oct. 1, 2021, at the age of 73.
Cason was born Feb. 3, 1948, in Newport, the son of Enes and Vera (Stevens) Cason.
Cason was a 1966 graduate of Grubbs High School. He had worked for Boeing Air Craft for 46 years as a Quality Control Inspector.
Cason enjoyed spending time on the Missouri River at St. Charles watching nature. He was a huge NASCAR fan and attended many races over the years at Daytona and Talladega.
Cason had been working on the Neely Farm at Pleasant Plains driving a backhoe and bailing hay. One of his hobbies was going to junk stores. Cason will be remembered as a very caring and loving husband, father, son, brother, and uncle. He was truly loved by everyone who knew him.
Cason was preceded in death by parents; one son, Patrick Cason; and one brother, Gerald Cason.
He is survived by his wife of 54 years, Emogene (Parsley) Cason; one son, Brandon Cason of St. Charles, Missouri; three brothers, Jay Cason, and wife, Faye, of Porter Ranch, California, Lee Cason and wife, Carolyn, of Pleasant Plains, and Roger Cason of Greers Ferry; six sisters, Betty McCoy and husband, Bobby, of Grubbs, Virginia London and husband, Coy, of Jonesboro, Edie Neely and husband, Larry, of Grubbs, Carolyn Neely of Greers Ferry, Diane Jackson of Simi Valley, California, and Tresa Cason of Bradford; one grandchild, Justin Cason, and wife, Haleigh, of Lakeland, Florida; one great-grandson, Konner Cason of Lakeland, Florida; a host of nieces and nephews; and a lifetime of friends.
Friends may visit at Jackson's Newport Funeral Home, Wednesday from 4:30 p.m. until 7:00 p.m.
Those honored to serve as honorary pallbearers will be Bobby McCoy, Coy London, Larry Neely, Wayne Lloyd, Brad Wolfe, and his nieces and nephews