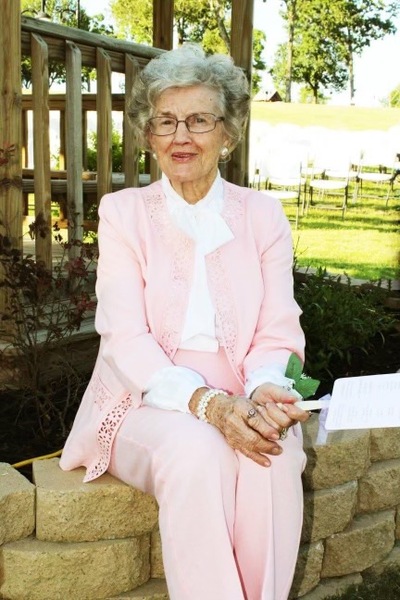 Freda Gwendolyn Anderson Battles age 90 passed from this life on Thursday, Oct. 7, 2021, at the White River Medical Center in Batesville.  She was born on May 5, 1931, in Cave City, Arkansas to Fred L. and Ella Anderson.  On June 1, 1947, she married Johnny Van Battles of Sidney and lived as a homemaker and the mother of three children in and around Sidney for her remaining 74 years.
Gwen was a member of both the Sidney Cumberland Presbyterian Church and the Sidney Extension Homemakers Club for over 70 years.  She enjoyed quilting and sewing.  She was a very notable seamstress and enjoyed making clothes for herself, her daughter, and two granddaughters for many years.  She enjoyed traveling and had visited many historic places.  She was a 4-H leader for Sidney 4-H Club for many years and a Children's Sunday School teacher.  She enjoyed being involved in the lives of children.  Gwen and her husband Johnny lived on a cattle farm and were chosen Sharp County Farm Family of the Year in 1976.  She was elected mayor of Sidney and served for many years.
Gwen loved her family and was a very good cook.  Everyone always enjoyed family time around the kitchen table at Christmas and other holidays and special occasions.  She will be greatly missed by all who loved her.
She was preceded in death by her parents; her husband; two sisters; a son-in-law; a grandson and a great-great-grandson.
Survivors include two sons, Tim Battles and Conrad Battles (Saundra) both of Sidney; one daughter Jan Battles Wesley of Batesville; five grandchildren, Chance Battles (Kate), John A. Battles and Matthew Battles all of Sidney, Sarah Huckabee (Adam) of Cave City and Rachel Dodd (Sid) of Cushman; seven great-grandchildren and two great-great-grandchildren; one brother, Everett L. Anderson (Charlotte) of Bald Knob; several nieces nephews, cousins, and other relatives and friends.
Funeral services will be Monday, Oct. 11, 2021, at 2:00 p.m. at the Sidney Cumberland Presbyterian Church with Rev. Alan Meinzer officiating.  Burial will follow in the Mt. Carmel Cemetery in Sidney with arrangements by Qualls Funeral Home of Cave City.
Visitation will be from 1:00 p.m. until service time at the church.
Pallbearers will be Adam Huckabee, Sid Dodd, Colton Britt, and Jordan Dodd.
Honorary pallbearers are Joe Arnn, Charles Evans, Dwight Smith, Frank Daniels, Jeff McKenzie, Joe Stidman, and Ronnie Schulz.