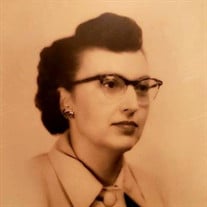 Katherine Francis Logan, 95 of Batesville; died November 3, 2021, in the White River Medical Center in Batesville.
Born January 6, 1926, in Cache; daughter of the late Robert and Ella Copeland Sherrell. She was united in marriage to Charles Logan on May 29, 1944. She was the first female projectionist at the Walnut Ridge Movie Theater in the '40s during the war. She then became the first female PBX switchboard telephone operator in Lawrence County. She was extremely smart and had an amazing memory, she loved to read in her spare time. She had a strong love for animals, was an avid advocate for animals' welfare, and was a lifetime supporter of the local humane societies.
She is preceded in death by her parents; her husband, Charles; two brothers, and two sisters.
Survivors include her daughter, Sherry K. Logan of Batesville; two granddaughters, Tammy Logan of Washington D.C. and Suzette (Andy) Cowden of Cushman; and many other relatives and friends.
Graveside service were Monday, November 8, 2021, at 2:00 p.m. in the Lawrence Memorial Park with Bro. Jake Guenrich officiating. Pallbearers were be her family and friends.