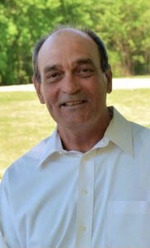 R. Anthony Robinson of Tuckerman, Arkansas, departed this life on Tuesday, November 9, 2021, at the age of 61. He was born March 23, 1960, in Newport, the son of Rev. John Elwood and Edna (Walls) Robinson. On August 27, 1983, he was married to Miss Teresa Jansen, and together they enjoyed 38 years.
He was a 1978 graduate of Newport High School. He worked for Shearer Foods and was a member of the First Church of the Nazarene.
He was an avid outdoorsman who loved fishing, hunting, and watching his sons play sports. He was an LA Dodgers fan, but only when it served to aggravate someone else! His greatest love was for his family, and he especially cherished time spent playing with his grandbabies.
He was preceded in death by his parents, John and Edna Robinson.
He is survived by his wife of 38 years, Teresa (Jansen) Robinson of the home; two sons, Eric Robinson, and wife, Kelli, of Morrilton, and John Jansen Robinson and wife, Brittney, of Jonesboro; one brother, John Robinson, and wife, Cathy of Little Rock; one sister, Christine Goodman of Newport; five grandchildren, Cohen, Ty, Bo, Brooks, and Carter Robinson; and a lifetime of friends.
Friends may visit at the funeral home, Thursday, 5:00-7:00 p.m. Funeral services are 10:00 a.m. Friday at Jackson's Newport Funeral Home Chapel. Interment will follow at Watson Cemetery.
Those honored to serve as pallbearers are Eric Robinson, John Jansen Robinson, John C. Robinson, Kenny Howard, Donnie Calamese, Mark Fleming, Joseph Jansen, and Ray Sharp. Honorary pallbearers are Shearer Employees, the Newport High School Class of 1978, and David Gay.