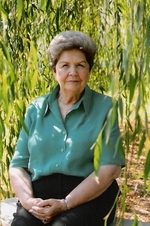 Mavis Gillespie Rhodes of Newport, Arkansas, departed this life on Monday, November 22, 2021, at the age of 93. She was born May 4, 1928, in Pennington, Arkansas, the daughter of George Washington and Hettie Mary (Welty) Edwards.
Mavis was a lifelong resident of Jackson County. Her first husband, Jewel Gillespie, opened a welding and machine shop in March of 1966. Mavis learned bookkeeping in order to keep the office for him. After his death in 1973, she sold the shop but was asked to stay on as a bookkeeper. She worked there until the fall of 1978 when she began working at Ivy Realty. Ever the hard worker, in 1979 Mavis began working at Smith's Concrete Products while continuing to work for Ivy Realty. In her spare time, she was a talented seamstress who did alterations for Van Atkins and made quilts and clothing for her family and friends.
When Smith Concrete closed in 1986, she asked for and received a job at Jackson's Funeral Home, working for Bob Jackson. Mavis was a member of the Jackson's Funeral Home Family for more than 20 years.
Mavis was a kind woman with a huge heart. She loved all people and was especially kind to children. Mavis had a quiet strength and resiliency that carried her through her life. She loved to laugh and carry on with her friends and family. Most importantly, she loved her children and grandchildren.
Mavis was preceded in death by her first husband, Jewel A. Gillespie in 1973; her second husband, Jim Rhodes in 2000; her daughter, Suzy Ford; five brothers, Jim, Wilman, Cleo, Yvonne, and Floyd Edwards; and two sisters, Ethel Hickman and Cathaline White Taylor.
She is survived by one son, Mike Gillespie of Ocala, Florida; three stepsons, Gerald Rhodes and wife, Marilyn of Pocahontas, Joe Rhodes and wife, Kathy of Laingsburg, Michigan, and Mike Rhodes and wife, Trish of Alma; three grandchildren, Chris Way of Newport, Danna Ford and husband, Joe, of Newport, and Adam Grendell of Newport; four great-grandchildren, Katie Way, Summer Way, Khlan Ford, and Konnor Ford; one great-great-grandchild, Oliver McNew; nine step-grandchildren, Jerry, Tammy, Lisa, Amy, Emily, Mark, Michael, Chris, and Amanda; several step-great-grandchildren; several nieces and nephews; and a lifetime of friends.
Friends may visit at the funeral home Sunday, 5:00-7:00 p.m. Funeral services are 2:00 p.m. Monday, November 29, 2021, at Jackson's Newport Funeral Home Chapel. Interment will follow in Gracelawn Cemetery