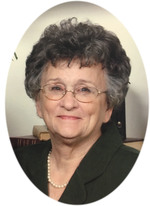 Jeannine Arlette' (Marchand) Walton of Newport, Arkansas departed this life on Monday, November 22, 2021, at the age of 90. She was born November 27, 1930, in Stuttgart, the daughter of Stanley David and Bertha Bernice (Bradley) Marchand.
She was married to John A Walton, Jr., on January 17, 1953, and they enjoyed 63 years together. She was a graduate of Newport High School and Arkansas Baptist Hospital School of Nursing.
She was a retired RN, who was well respected by those who worked under her supervision. It has often been said that "To do what nobody else will do, a way that nobody else can do, in spite of all we go through; that is to be a nurse." She embodied that statement. She created a family atmosphere among her staff and treated her patients with great care and kindness.
She was Director of Nursing at GPW Nursing Home, which had a reputation for the wonderful care residents received. She loved to garden and paint, but her greatest joy came from taking care of and spending time with her family.
She was a member of and played piano for Murphy's Corner Baptist Church for over 63 years, before becoming a member of Newport First Baptist.
She was preceded in death by her husband, John A. Walton, Jr.; one son-in-law, Craig Mullins; two brothers and sisters-in-law, Leslie Warner Marchand and wife, Norma Jean, and Phillip E. Marchand, Sr., and wife, Dot; and her parents.
She is survived by two sons, John Anthony Walton, III, and wife, Lisa of Newport, and Robert Stanley Walton and wife, Tina of Floyd, Arkansas; two daughters, Linda Kaye Mullins of Conway, and Phyllis Worthington and husband, Matthew of Oil Trough; one brother, George David Marchand and wife, Norma of Newport; ten grandchildren, Melissa Kirchner and husband, James of Conway, Melinda Mullins, Rachel Bonner and husband, Aaron of Warrensburg, Missouri, Scott Loftin of Newport, Lindy Sides and husband, Elliot of Newport, John "Anthony" Walton IV of Newport, Emily McGee and husband, Mark of Newport, Bobby Walton and wife, Stephanie of Floyd, Robbie Loftin and wife, Kim of Collinsville, Oklahoma, and Amanda Loftin Phillips and husband, Jamie of Collinsville, Oklahoma; sixteen great-grandchildren; six great-great-grandchildren; her lifelong friends, Nae Lance, Aleta Haigwood, and Kathy Swint; many other dear family and friends.
Funeral services are 2:00 p.m. Wednesday at Jackson's Newport Funeral Home Chapel with interment in Sandhill Cemetery. Friends may visit at the funeral home, Wednesday, 1:00 p.m. until service.
Those honored to serve as pallbearers are Bobby Walton, Nicholas Sides, Ethan Kirchner, Anthony Walton, Anthony M. Walton, Silas Kirchner, and Scott Loftin. Honorary pallbearers are Warren McGee, Noah Walton, Donny Jackson, Marcus Grady, Joe McGinnis, Andrew Loftin, Unity Health Auxiliary, and members of the Dorcas Sunday School Class.
Memorials may be made to The Gideons at www.gideons.org/donate or by mail to
The Gideons International Processing Center
P.O. Box 97251
Washington, DC 20090-7251