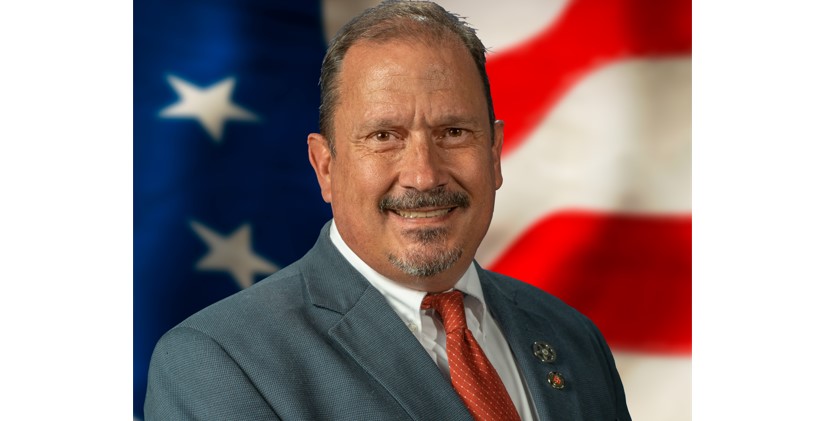 A patrol sergeant for the Stone County Sheriff's Department has announced his candidacy for Stone County Sheriff, subject to this year's Republican Party Primary.
Sgt. Brad Breeding (pictured) said in his campaign announcement that his heritage dates back to the founding of Mountain View. He noted that his family that came before him gave him the moral base that guides his life. He said that foundation will hopefully be seen in his character, and it is the legacy that he will leave to his children.  
Breeding's wife, Stephanie, is a fifth-grade social studies teacher at Mountain View Middle School. Daughter Brittany, is a reporter for Fox 57 Television in Columbia, S.C., and son Bradley is a sophomore at the University of Central Arkansas.  Previously, Brad served as the band and music teacher with the Mountain View School District.
More from the release…
I am Brad Breeding and I want to give back in service to the people and community that raised me by being your next Sheriff for Stone County.  I am a conservative and registered Republican, but I will represent and work for everyone regardless of political affiliation.  The decision to run for this office comes after a lot of reflection and prayer.  I was raised with service as the cornerstone of life since my earliest memories.   I am the son of retired Colonel Joel Breeding and Stone County native Virginia Breeding. I am also the grandson of Faye Brewer, a local teacher, and Earnest "Grudy" Brewer, a carpenter who built businesses and homes in Stone County.  My heritage dates back to the founding of Mountain View.  My family that came before me has given me the moral base that guides my life.  This foundation that hopefully is seen in my character is also the legacy that I leave to my children.  
I am the proud father of Brittany Breeding, a reporter for WACH Fox 57 in Columbia, South Carolina, and Bradley Diamond Breeding, a sophomore at the University of Central Arkansas.  My wife, Stephanie Breeding, is a fifth-grade social studies teacher at Mountain View Middle School.  I am currently a Patrol Sergeant with the Stone County Sheriff's Office and was the former Band and Music teacher with the Mountain School District. In addition, I am highly qualified with additional areas of licensure in Special Education and all subjects for grades preschool thru eighth grade.  I have a degree in psychology with 24+ hours in master classes.  I have also worked almost every position with the Sheriff's office from reserve and jailer/dispatch to my current rank and was named Investigator of the year for Stone County in 2018.  I have added endorsements of Crisis Intervention and a law enforcement technical degree.  
I have also owned a successful entertainment agency in Mobile, Ala. This involved managing corporate convention budgets over $250,000 and the hiring of 200 employees for convention work.
My combined experience in education, business, and law makes me the most qualified person for the administrative position of Sheriff.
I could list numerous catchphrases that seem to be in every candidate's announcement, but I will just say this.  I am a part of the people of Stone County and they are a part of me.  I chose to move back home to raise my children because I truly believe we have something special here.  I have worked a variety of jobs and every one I took on, I put everything into it so that it would benefit everyone involved, whether it was a student, client, or tourist coming to Mountain View to experience a taste of our culture.  I will take on the role of Sheriff with the same vigor and enthusiasm.  In eight years I am eligible for retirement.  In this time, I want to be in a position where I can implement positive changes and then leave the department better and more financially sound than when I started.  
Priorities:
 Develop a skills and work-based intervention program to combat the drug epidemic addressed towards non-violent offenders.  

Utilizing a grant writer that has volunteered to find all available government funds available for our department.

Establish training with an emphasis on community policing for public interactions.

Organize cross-training with other state and local first responders for efficient mobilization and cooperation necessary for processing calls.

Open up lines of communication for developing transparency between the Sheriff and the public as well as inter-agency personnel.

Ensure a "By the Book" working environment to not only build trust between the Sheriff's office and the public, but also to support the actions of deputies when on traffic stops or other calls.

Provide the tools necessary both in training and equipment for deputies and investigators to handle the variety of calls the department receives.

Build trust with the community that our employees' oath to uphold the constitution and all its parts will be upheld.
I will be 54 at election time.  This is not about money or being Sheriff for years.  When eligible, I shall leave a well-run department to a successor.   I hope to leave a legacy for my children, community, and make a difference in lives along the way.  If we work "By the Book" then we take our personal bias out of the interaction and everyone benefits by equal and fair treatment. You can turn on the television daily and see the negative results from decisions being made to only benefit a few.  There is a Right and Wrong to everything.  Make the Right Choice. When elected I vow to work hard and uphold the Constitution, and I will bring honesty, experience, and integrity with me.  I appreciate your vote to be the next Sheriff for Stone County.
Image and announcement submitted
---
Have a news tip or event to promote? Email White River Now at news@whiterivernow.com. Be sure to like and follow us on Facebook and Twitter. And don't forget to download the White River Now mobile app from the Google Play Store or the Apple App Store.
Get up-to-date local and regional news/weather every weekday morning and afternoon from the First Community Bank Newsroom on Arkansas 103.3. White River Now updates are also aired weekday mornings on 93 KZLE, Outlaw 106.5, and Your FM 99.5.