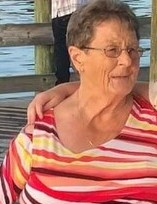 Barbara Ann Holbrook Hardgrave, 81, passed away on January 9, 2022. She was born on May 23, 1940, in Newport, AR, to the late Simon C. and Lillian Berth "Griffith" Holbrook.
She never met a stranger a day in her life. She had the biggest heart and was always willing to do anything for those she loved. She loved watching Nascar and most of all her Razorbacks. She loved to travel, talking to her cardinals on the bird feeder while she sat out on the front porch, working on her high score on her slots game that she had on her phone, and in her youth, she was an avid bowler and softball player.  She will be remembered by her family and those that love her as a sweetheart with a great sense of humor.
She is survived by her husband, Ernest Leon Hardgrave; daughter, Sherry Pierce (Michael); as well as multiple step-children, grandchildren, and a future great-great-grandchild to whom she was so excited to meet this June. She is preceded in death by her parents; brothers, N.A. and Billy Dean Holbrook; and sister, Betty Atkinson.
A visitation will be held at Willis Funeral Service on Thursday, January 13, 2022, from 5 p.m. to 7 p.m. The funeral service, officiated by Dean Holbrook, will be held at Willis Funeral Service on Friday, January 14, 2022, starting at 11 a.m. Interment will follow the service at Pleasant Valley Cemetery.