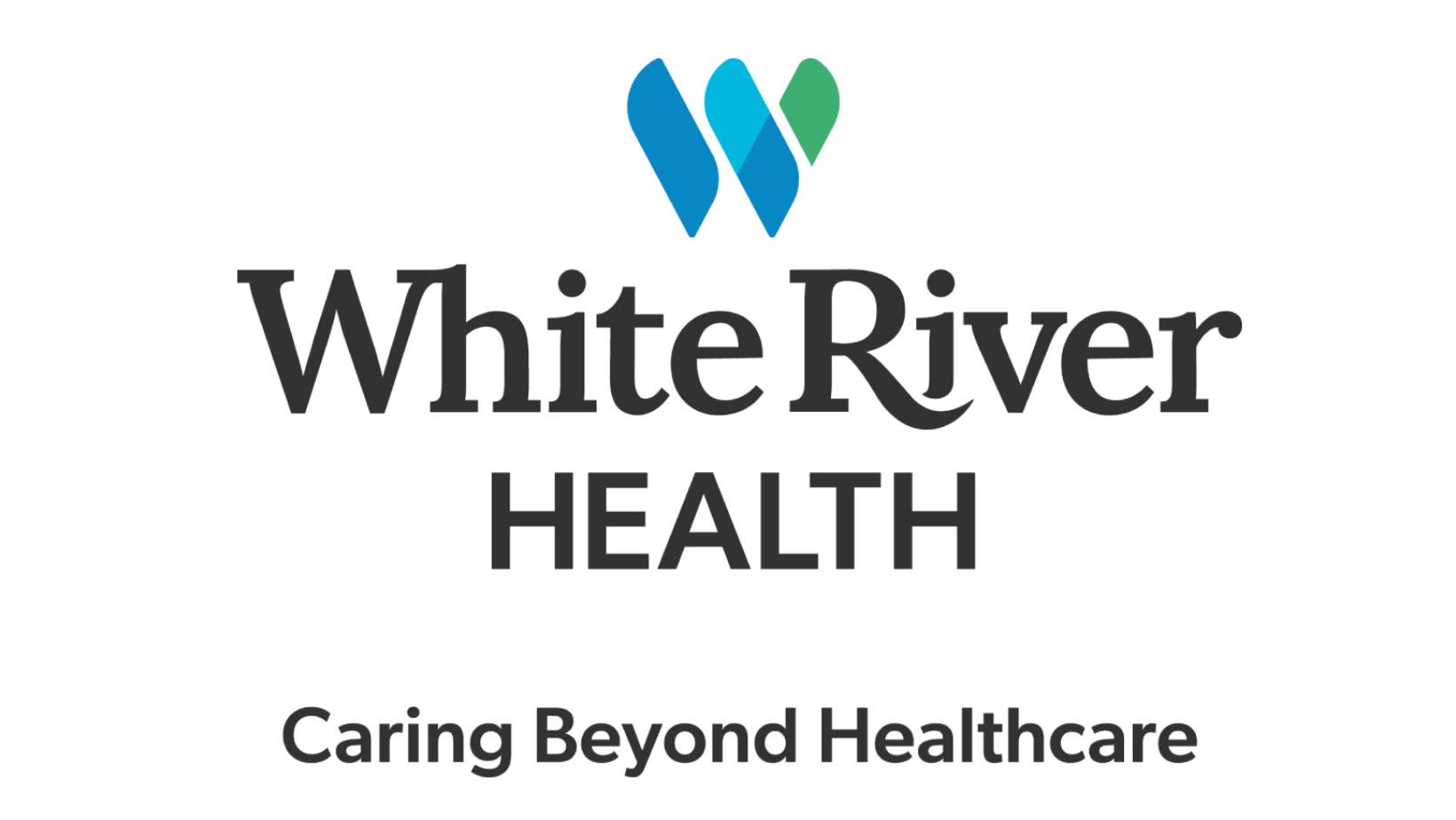 The brand of White River Health System is getting a fresh face with a new logo and a shortened name: White River Health.
Gary Paxson, CEO and president of the healthcare system that serves a six-county region in North Central Arkansas, introduced the updated brand to staff members at White River Medical Center in Batesville today, noting the revamp has been in the planning stages for three years.
In an interview with White River Now's Chad Whiteaker, Paxson said the rebranding helps to put a better focus on what the system does — protecting the health of individuals in the communities it serves. (Scroll down to listen to the full interview with Paxson.)
"Healthcare is definitely part of what we do and always will be," Paxson said. "But what we do extends beyond that. We want to be the community partners, the family, the friends that stand by you and with you through the good times and the bad doing our primary mission of health care, but serving in other ways as well. So, we're very excited to introduce this as a new way to identify who we are as a health system for the communities and employees we serve."
Paxson said this is the first refresh of the brand in more than two decades and is a representation of what the organization has become since emerging from COVID.
"Our employees have done such an amazing job of holding the fort and keeping with our mission of serving in such a great way through such a stressful time," he said. "This is a great way for us to honor them, to demonstrate to them, and to our communities — we are still here, we intend to serve, and we intend to make ourselves better as we move forward."
"The past two years have been very difficult with the pandemic and staff shortages," said Paxson. "With the help of our dedicated employees, WRH has grown even stronger and, during this time, reaffirmed our commitment to the health of our communities. We believe this transition is indicative of this achievement and the bright future of the organization. We have grown in our culture and service, and the rebranding serves as a symbol to remind us, and to communicate to our communities, of our ongoing commitment to a culture of service and exceptional healthcare."
Paxson says the new "fresh and clean" logo represents the "beautiful geography" of the region White River Health serves while the system's new tagline — Caring Beyond Healthcare — "embraces what we've become and what we continue to challenge ourselves to be moving forward."
He said it will take about a year for new White River Health signage and branding to be complete throughout its locations, however, the main marquee at White River Medical Center as well as the system's digital and social media outlets should reflect the change in the immediate future.
To listen to an in-depth conversation with Paxson and Whiteaker about the refreshed look and brand of White River Health, click below.
And watch Paxson unveil the new brand to White River Health staff members today at White River Medical Center in Batesville.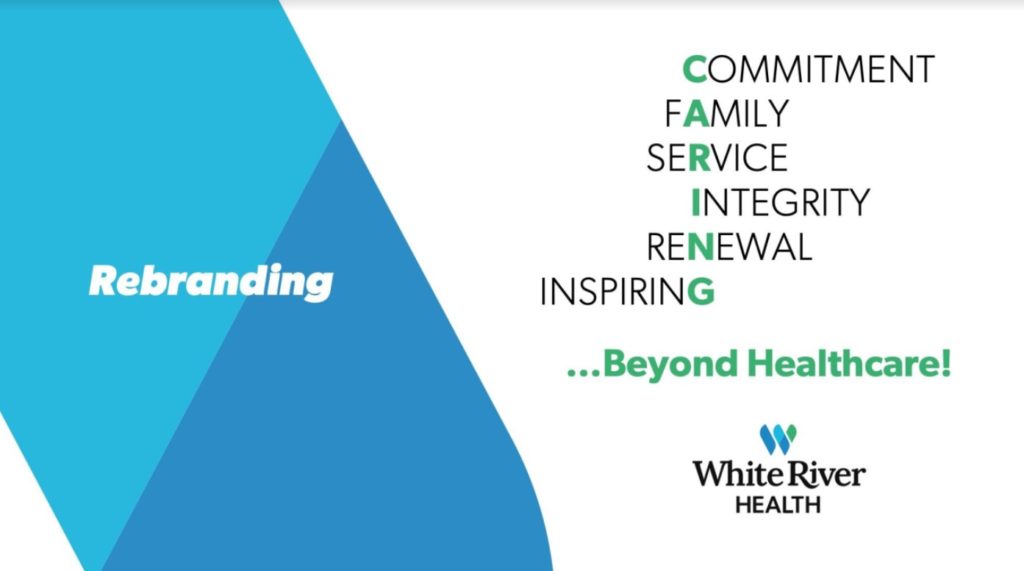 White River Health President and CEO Gary Paxson speaks to staff members at White River Medical Center during Thursday morning's unveiling of the system's new brand.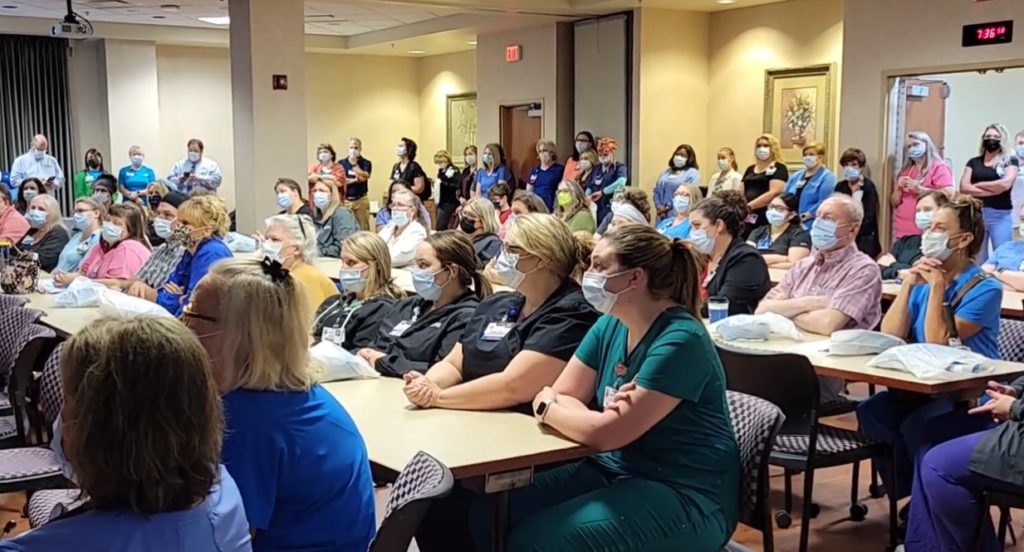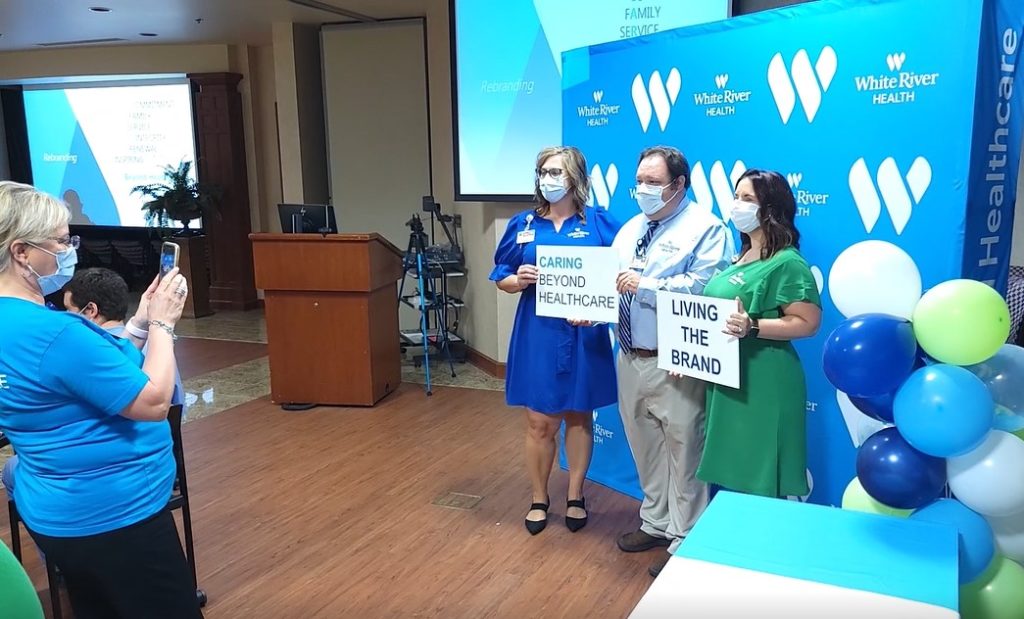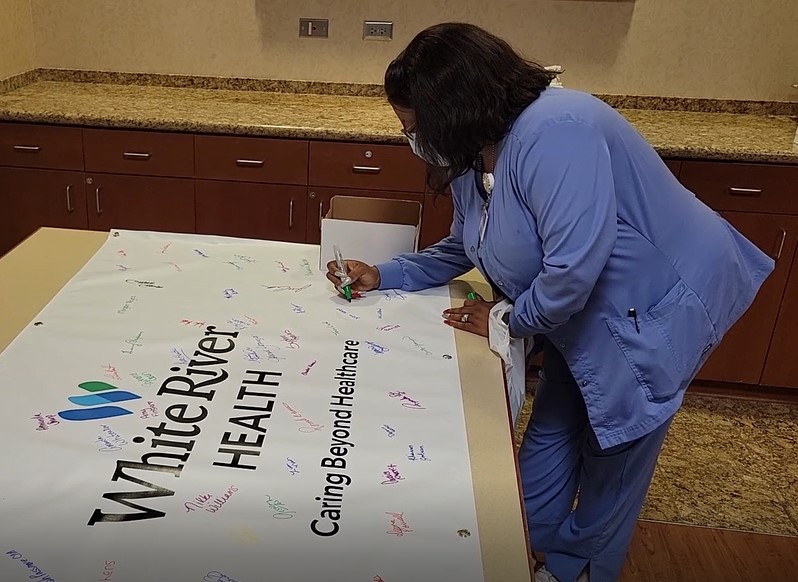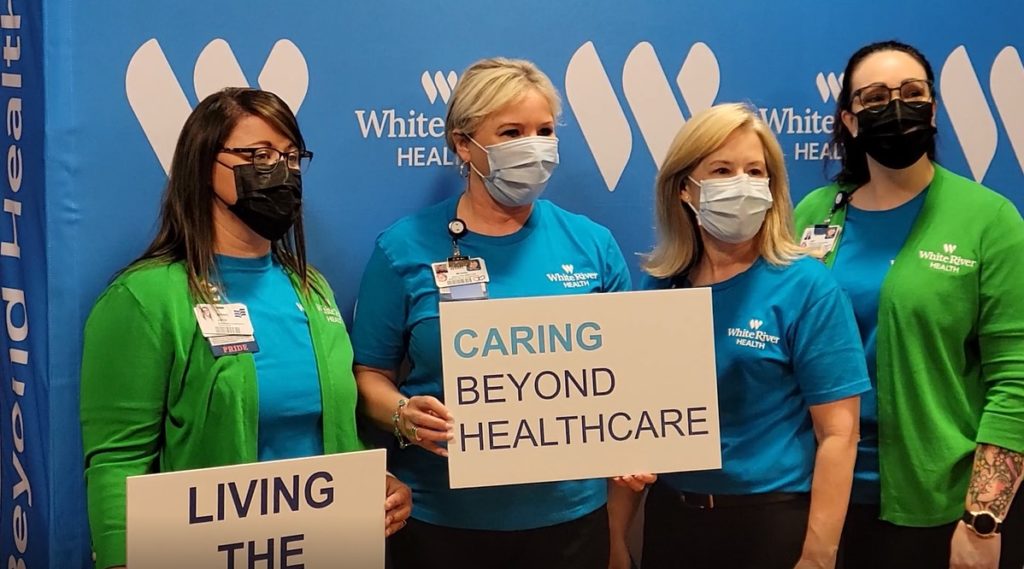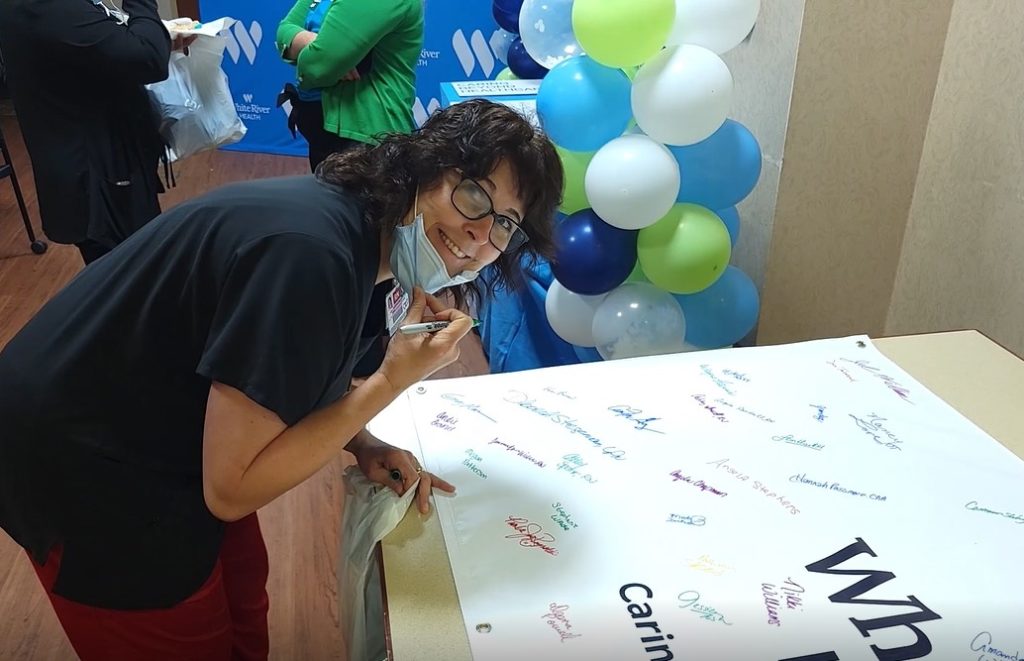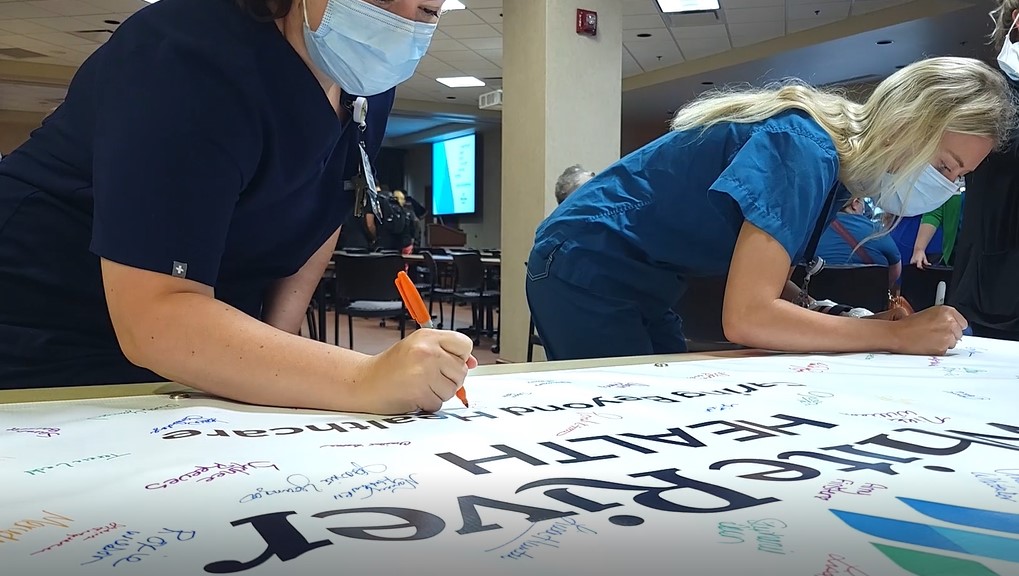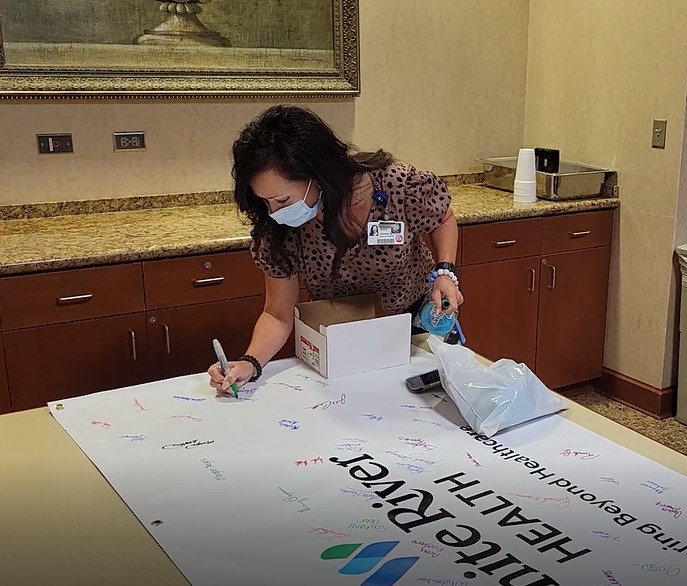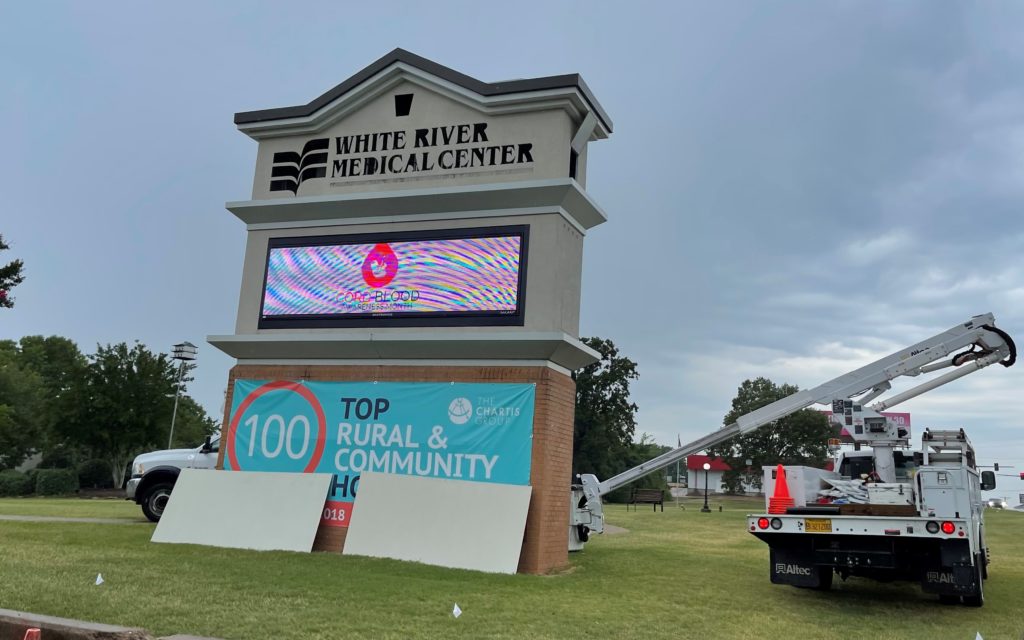 Above image: Workers prepare the White River Medical Center sign on Thursday morning to reflect the new White River Health logo.
More from White River Health on the rebranding:
While dropping 'System' from the name is a small change, it allows the healthcare organization to focus on what we do – Health.  The W in the new logo represents the White River and is a tribute to the organization's history, upon further investigation, you can see two hearts coming together.  The two hearts overlap to show caring and connection.  The colors are refreshing, natural colors that flow together like the river: Blue represents calm, comfort, trust, and commitment and green represents health, growth, and energy.  
The new tagline – Caring Beyond Healthcare – communicates what WRH represents and their purpose. It means caring extends beyond the walls of the hospital and into the communities, making this region a healthier place. It also means maintaining an exceptional level of caring within the walls of our facilities by delivering lifelong, next-level care to patients. Lastly, it means providing a warm, empowering, culture for the employees.  WRH aims to be more than medicine, building brighter futures for North Central Arkansas.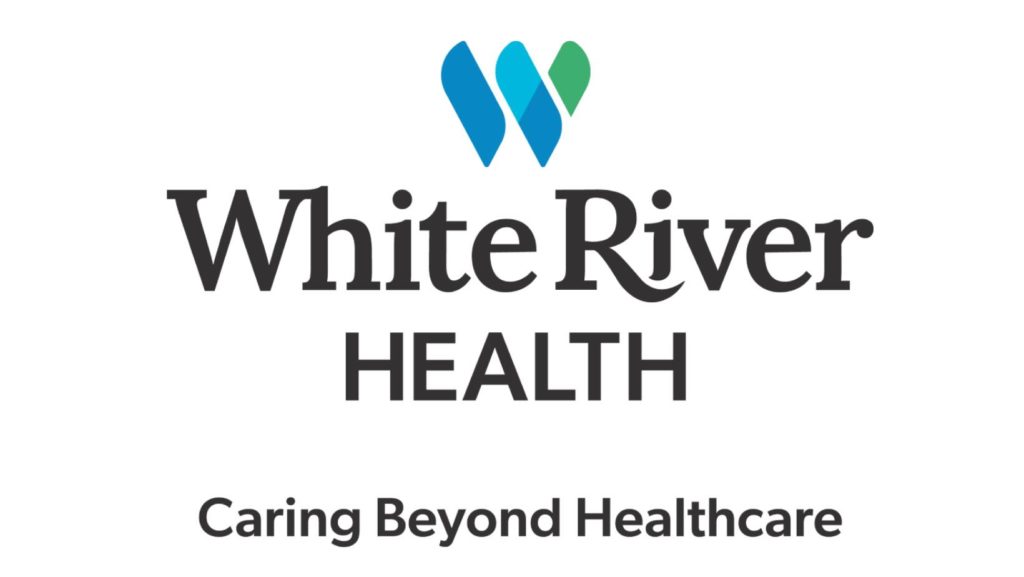 ---
---
Have a news tip or event to promote? Email White River Now at news@whiterivernow.com. Be sure to like and follow us on Facebook and Twitter. And don't forget to download the White River Now mobile app from the Google Play Store or the Apple App Store.
Get up-to-date local and regional news/weather every weekday morning and afternoon from the First Community Bank Newsroom on Arkansas 103.3 KWOZ. White River Now updates are also aired weekday mornings on 93 KZLE, Outlaw 106.5, and Your FM 99.5.