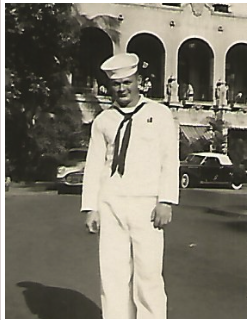 J W Runyan, 91, of Batesville, AR. died on Thursday, July 28, 2022. J W was born March 30, 1931, in Batesville, AR, to the late William Edward Runyan and Lula Gladys (Sanders) Runyan. J W was a true patriot, he served his country honorably in the United States Navy and was very proud of his service. He enjoyed fishing and hunting. He loved dogs, especially his Boston Terriers. He also liked to garden, cook, and watch Swamp People. J W was a kind man with a servant's heart. He never met a stranger and was willing to do anything and everything to help someone in need. He was beloved by all that knew him. Of all his passions and hobbies, nothing meant more to him than his family.
J W is survived by the love of his life and wife of 69 years, Myrle (Collins) Runyan; his son, Jay Dwight Runyan (Diane); his daughter, Dana Lynn (Runyan) Casteel (Deral); his brother, Billy Joe Runyan; his sister, Lou Ann Rooks; three grandchildren, Kristen Danielle Smith (Marty), Ashley Elizabeth Wygal (Kerry), and Anna-Grace Powell; two great-grandchildren, Marley Danielle Smith and Olivia Lynn Whillock, and several nieces, nephews, extended family, and friends. J W is preceded in death by his parents and his brother, Charles Runyan.
The funeral service will be held on Monday, August 1, 2022, at Willis Funeral Service Chapel in Batesville AR at 2 PM with burial to follow at Roselawn Cemetery in Batesville.