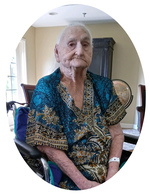 Ruthie Hazel (Lindsey) Wood of Newport departed this life on Friday, July 29, 2022, at the age of 96. She was born on December 14, 1925.
She was a homemaker. She enjoyed fishing and doing word search puzzles. Mrs. Wood was of the Baptist belief.
She was preceded in death by her husbands, Junior B. McElroy, Clifford Haggler, and Kenneth Wood; two daughters, Rayford Ruby Smith and infant Rose Mary Louise McElroy; one son, Daniel McElroy; her brothers; one sister, Lola Powell; and her parents.
She is survived by four sons, Billy McElroy and wife, Mary, of Magness, Jimmy Dean McElroy of Oil Trough, David Haggler of Southside, and Robert McElroy and wife, Chris, of Leesville, Louisiana; two daughters, Dorothy Jones of Batesville and Judy Yancey Howell of Magness; her twin sister, Ruby Williams; many grandchildren and great-grandchildren.
No services are planned at this time.