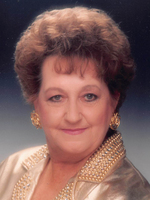 Carolyn Janice (Bridgman) Brooks of Newark, Arkansas, departed this life on Sunday, July 31, 2022, at the age of 84. She was born May 16, 1938, in Newark, the daughter of Hebert Franklin and Maudie Alene (Barber) Bridgman.
She was a graduate of Newark High School. She was retired from Cedar Ridge High School, where she had worked as a cook. She enjoyed raising animals of all sorts, watching hummingbirds, and doing yard work. She especially loved working on her flowers and helping to raise her grandchildren and great-grandchildren.
She was preceded in death by her husband, Carl Dean Brooks; one son, Scottie Dean Brooks; one daughter, Infant Regena Gay Brooks; and her parents.
She is survived by two daughters, Carla Layne of Oxford, Arkansas, and Frankie Combs and husband, Alfred "Buddy" Combs of Newport; one sister, Julia Newman and husband, Ronnie of Fort Worth, Texas; seven grandchildren; nine great-grandchildren; and a special friend, Vicki Prince of Newport.
Graveside services are 10:00 a.m. Thursday at Blue Springs Cemetery with Mr. Danny Blevins officiating.