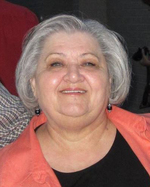 Linda Ray "Shorty" (Joslin) Dukes of Swifton, Arkansas, departed this life on Monday, August 1, 2022, at the age of 76. She was born January 7, 1946, in Jackson County, the daughter of William Clyde "Bill" and Ressie Ray (Ballew) Joslin.
On June 14, 1968, Miss Linda Joslin married Mr. Charles Ed Dukes, and together they enjoyed 54 years.
She retired from Wal-Mart in 2006 after 27 years of service and was a member of Abiding Faith Church in Swifton. Mrs. Dukes enjoyed card games, going to casinos, and bingo. She was an avid reader, who liked to dance and sew. Mrs. Dukes was an amazing cook, whose greatest joy in life with time spent with her family. She was her children and grandchildren's biggest fan, spending hours attending their sporting events.
She was preceded in death by her parents; and one brother, Walter Edward Joslin.
She is survived by her husband of 54 years, Charles Ed Dukes of Swifton; one son, Blake Dukes of Swifton; three daughters, Andrea Gibson and husband, Timmy of Cash, Sarah Camp of Swifton, and Carla Hubbard and husband, Don of Grubbs; one brother, J.W. Joslin of Newport; twelve grandchildren, Lydia Johnson, Steven Blake Johnson, Lindsey Winemiller Allen and Landon Russell, Andy Winemiller, Madison Shelby Hawkins and Dillon Slagley, Wesley Gibson and Haleigh Bray, Devin Soles and Kaity Hayes, William Reese Camp and Hannah Davidson, Reagan Camp and Braiden Burzynski, Jeffrey Ross Camp, Dylan Hubbard and Jordyn Lane, and Charleigh Hubbard; eleven great-grandchildren; several nieces and nephews; and a lifetime of friends.
Friends may visit at the funeral home, Thursday, 6:00-8:00 p.m. Funeral services are 3:00 p.m. Friday at Jackson's Newport Funeral Home Chapel, with Mr. Jimmy Cooper officiating.