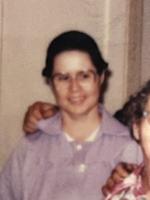 Rubie Charlene Mason of Little Rock, Arkansas, departed this life on Friday, August 5, 2022, at the age of 80. She was born on January 15, 1942, at the Big Bottom Township near Newark, Arkansas, the daughter of Charles Alphus and Ozie Lottie (Riley) Mason.
She was manager of Memphis Memorial Studio, which specialized in Monuments, until her retirement. She enjoyed doing yard work, completing puzzles and was an avid reader.
She was a member of the Church of Christ, where she taught Sunday School.
She was preceded in death by her parents; two sisters, Sylvia E. Melton, and Peggy J. Mason; four half-sisters, Cora Ann Mason, Mary Lucille Bishop, Juanita Mason, and Myrtle Martha Ellen Stipes Allen; and four half-brothers, Lewis Mason, Paul Mason, Joseph Mason, and Sidney Mason.
She is survived by three brothers, Charles "Rocky" Mason of Eudora, Kansas, David L. Mason of Little Rock, and Joseph A. Mason and wife, Dorothy of Emporia, Kansas; two sisters, Alice L. Bryant of Eudora, Kansas, and Josephine A. Hawkins and husband, Robert of Cord; and many nieces and nephews.
Memorial graveside services are 11:00 a.m. Thursday at Oaklawn Cemetery in Batesville, with Danny Blevins officiating.