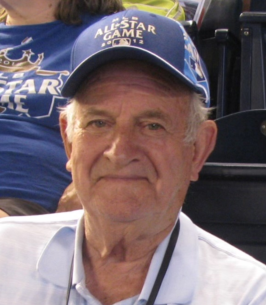 We celebrate the long and fruitful life of Bernis Neal Hinesley, whose life began on October 7, 1931, and came to a peaceful end on September 12, 2022. Anna Marcille Hinesley, his beloved wife, was, as always, by his side. They had been married for 70 years.
Bernis volunteered for military service in the Korean War and served in the 1st Calvary Infantry Division, Battery A, 61st Field Artillery Battalion. He was awarded three bronze stars for bravery under fire.
After his service, he devoted his energies to his work and his family. He worked for Armco Steel in Kansas City for over 40 years.
Even after retirement, Bernis stayed active by working on any number of projects out of his garage workshop. He delighted in rebuilding small engines, as well as working with the earliest personal computers and even robotics. He was an ardent fan of nearly every sport, most especially the Kansas City Royals and the Chiefs. But his greatest joy was being with his family and grandchildren. Bernis was a member of the Lindsey Masonic Lodge of Timbo, AR, the Scottish Rite, Valley of Kansas City and the Abdallah Shrine of Kansas City.
Mr. Hinesley is survived by his wife, Anna Marcille; their son Darren K., and their grandchildren, Cory, Miranda, Sarah, and Tayler, as well as several nieces and nephews.
He is predeceased by his son, Danny Neal, his parents, Jesse and Sally Hinesley, his brothers Herman and Ray, and his sister Dicie Johnson.
A visitation will be held Saturday, September 17th, 2022 from 12:00 P.M. until 1:00 P.M. at the Fox Bethlehem General Baptist Church, where he was a lifelong member. A funeral service will follow at 2:00 P.M. Brother Kenny Perry and Brother Jerry Perry will officiate the service. Interment will take place at the Fox Cemetery.