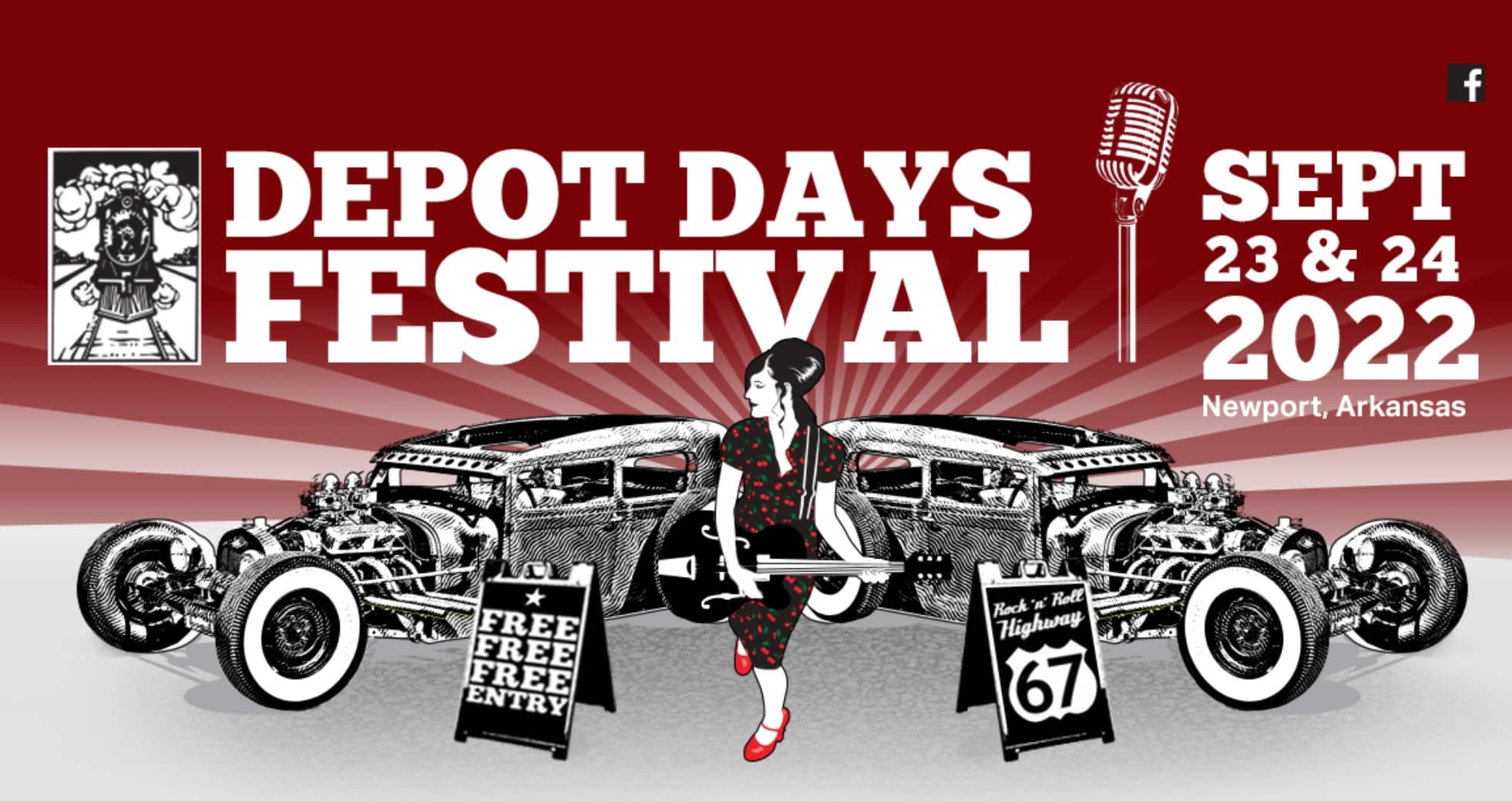 The 24th annual Depot Days Music Festival is coming this Friday and Saturday, Sept. 23 and Sept. 24 on historic Front Street in downtown Newport.
Part of the Monster Nights Downtown Entertainment Series, the festival is a showcase of local, regional, and national talent paying tribute to the early history of Rock and Roll.  
On Friday, Sept. 23, The Bouffants will perform for the annual Conductor's Reception and Fundraiser at the Jane Parnell Performing Arts Hall. From Minneapolis to New Orleans, Chicago to Atlanta, The Bouffants perform classic songs from groups like The Jackson Five, Aretha Franklin, Tina Turner, and Sly & the Family Stone, along with other classic hits from Motown and Stax to rock and roll and current favorites. The reception begins at 6 p.m., with music starting at 6:30 p.m.
A full day of music is planned for Saturday, Sept. 25 with artists such as The Original Drifters, Marty Haggard, The Remnants of Rock, and more.  Admission is free.  
More information about Saturday's performers:
Bill Pinkney's Original Drifters
Bill Pinkney's Original Drifters legacy group still reflects the entire Legendary Drifters' presence in the music industry, weaving a blend of nostalgic magic and on-stage excitement with a 21st-century twist. Changes in personnel and management have led over the years to the sprouting of many Drifters permutations, but 1953 original Bill Pinkney has used the name continuously since the 1950s, and his legacy continues. Clyde McPhatter (Mount Lebanon Gospel Singers), Bill Pinkney (The Southern Knights), and Gerhart and Andrew Thrasher (The Thrasher Wonders) met while singing in gospel groups. When Atlantic Records rejected McPhatter's trial group, these four men joined forces, signed individually with the company, and in 1953, established the foundation upon which a music legacy was subsequently built. Thirty-five years later in 1988, originals McPhatter, Pinkney, Gerhart Thrasher along with four later Drifters, Johnny Moore, Ben E. King, Charlie Thomas, and Rudy Lewis, were inducted into the Rock and Roll Hall of Fame. 
Marty Haggard
Many consider Marty Haggard's dad, Merle Haggard, the greatest singer/songwriter ever. Growing up, Marty was able to travel with his dad and witness the writing and recording of all his great songs. He also had the opportunity to know many of the country greats such as Bob Wills, Lefty Frizzell, and Johnny Cash, just to name a few.  In 1979, Marty began touring with his own band, signing with Dimension Records in 1981. From 1983 to 1985, Marty toured with his dad, playing guitar and singing harmony. Marty signed with MTM Records in 1986 and released "Trains Make Me Lonesome," which garnered a nomination as best new male vocalist. Marty's love for his dad and his music eventually inspired him to begin a new project, which he titled "A Tribute to Merle Haggard — My Dad." In 2010, he recorded the first album of this project with a 15-song CD of Merle Haggard classics. In 2011, Marty released "A Tribute to Merle Haggard — My Dad Volume 2." He then took the show on the road throughout the country plus Canada, Ireland, Scotland, and England. As Marty's song Apple proclaims, "The apple never falls too far from its tree."
Remnants of Rock
The Remnants of Rock is composed of original band members that started out together in 1968, with the addition of the current keyboard player. The Remnants deliver a Branson-style show featuring "the best music from Rock's golden era 1959-1969 including classic songs by the Animals, Beach Boys, Beatles, Righteous Brothers, Otis Redding, Wilson Pickett, Four Tops, Temptations, and the Memphis and Motown sound. The group covers only Billboard's Top 40 hits, and the majority of the songs are #1 hit records from the era. The band's goal is to successfully recreate the music of the 1960s as authentically as possible.  
Backdraft
Andre Lindsey, also known by his stage name Backdraft, has performed with many artists including Carl Thomas, Gerald Levert, Dave Hollister, Montell Jordan, Fred Hammond, and Keith Urban just to name a few. His songwriting ability and stage presence has been hailed as energetic and on fire by most reviewers and critics. Being a native of Magnolia, Ark., Backdraft is no stranger to the southern hospitality that is offered in the state. His singing career, like most artists, started in the church. It was there that he learned to play drums and bass guitar. Backdraft recorded three gospel CDs before continuing to write songs and perform in the secular world. 
The Legendary Pacers
Providing 66 years of music, The Legendary Pacers still want to boogie. The Pacers have been honored by the Rockabilly Hall of Fame, Hot Springs Walk of Fame, Arkansas Entertainers Hall of Fame, Now Dig This Hall of Fame in Europe, Arkansas Governor's Award, Arkansas Travelers Award, Sonny Payne Blues Award, and many others. Although the Pacers lost Sonny Burgess in 2017 and Kern Kennedy in 2018, they are rockin' on and include a tribute to them during shows. 
The Jimmy Dunham Family & Friends
The Jimmy Dunham Family & Friends love playing gospel music and have been playing for over 40 years. Jimmy, his daughter Brenda, and Brenda's son, David, have an interesting blend of southern gospel to what some may say is "rocking gospel." The family has traveled all over Arkansas, and the surrounding states performing at churches, family reunions, and just about anywhere they are invited to play. 
The 2022 Depot Days festival will also include a motorcycle show, the annual Lions Club auction, vendor booths, great food, and much more. Coolers are welcome. Bring your lawn chairs. For more information, entry forms, and an entertainment schedule, visit depotdays.org or contact the Newport Area Chamber of Commerce at (870) 523-3618.
Information provided by the Newport Area Chamber of Commerce
---
Have a news tip or event to promote? Email White River Now at news@whiterivernow.com. Be sure to like and follow us on Facebook and Twitter. And don't forget to download the White River Now mobile app from the Google Play Store or the Apple App Store.
Get up-to-date local and regional news/weather every weekday morning and afternoon from the First Community Bank Newsroom on Arkansas 103.3 KWOZ. White River Now updates are also aired weekday mornings on 93 KZLE, Outlaw 106.5, and Your FM 99.5.