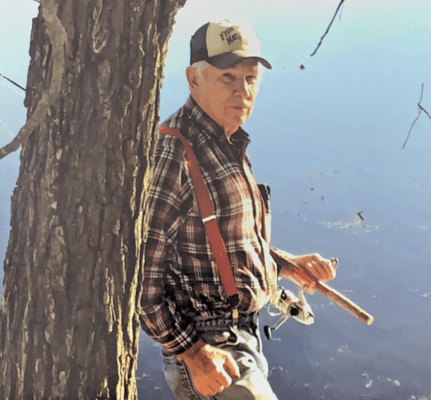 "Ray" Earl Vanatta, son of Roy and Nina Vanatta, was born November 17, 1930, in Miami, Oklahoma.  He went to be with his Lord and Savior on Friday, October 7, 2022, at the age of 91 years.
Ray was a husband, father, and "Papaw" to grandchildren and great-grandchildren.  He proudly served in The United States Army during The Korean War. He was united in marriage to the love of his life, Imogene "Jean" Brooks of Stella on January 16, 1955.  They were married for 65 years.
During his working years, he was a Fruit ranch foreman in Wenatchee, Washington and worked for Borg Warner "Mechanics" Universal.  He was a member of the Berean Missionary Baptist Church, where he served as a Sunday school teacher for teens. He enjoyed wood carving, wood crafts, trapping, fishing, hunting and spending time with his family.
Ray is survived by his daughter, Tammy Miller and her husband, Doug of Sage; a brother, Jerry Vanatta of Wenatchee, Washington; a sister, Rosetta Chenault of Morrilton, two grandchildren; Daniel Miller and his wife, Dr. Brooke also of Sage and Dr. Holly and Lee Harris of Sage; five great-grandchildren; Ty Miller, Orrin Miller, Paden Miller, Emmitt Harris and Raylyn Harris all of Sage.   He is also survived by a host of extended family and friends.
He is preceded in death by his parents; his wife; three brothers, Roy Vanatta, which was his twin brother, Eddy Vanatta and Jackie Vanatta, as well as a sister, Shirley Vanatta.
Funeral Services are at 2:00 PM on Monday, October 10, 2022, at the Macedonia Free Will Baptist Church with Randy Bailey officiating.  Burial will follow in the Reeves-Pine Grove Cemetery in Guion.
Pallbearers are Daniel Miller, Doug Miller, Lee Harris, Gordon Brooks, Jeff Eddy, Paul Gene Shaver, Seth Brooks and Jim Brooks
Honorary Pallbearers are Eric Jackson, Blane Johnson, Delmus Johnson, B.B. Johnson, David Jennings, Roger Brooks and Charlie Brooks.