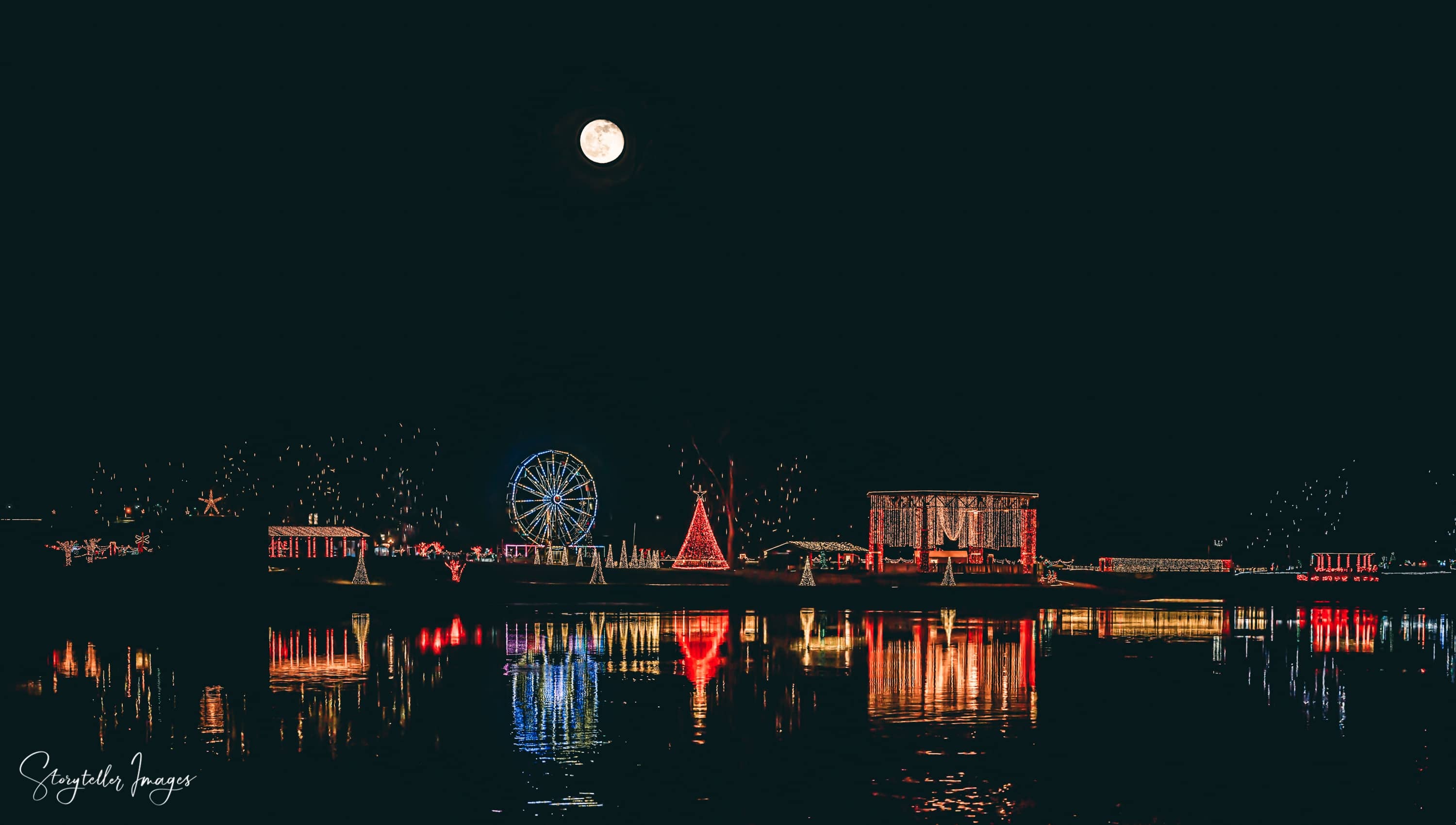 White River Wonderland picture by Storyteller Images and information provided by the Batesville Area Chamber of Commerce
The City of Batesville and Batesville Area Chamber of Commerce have released more details about the return of White River Wonderland to Riverside Park.
Each winter, the light display that earned Batesville recognition as the "Christmas Capital of Arkansas" takes over Riverside Park for locals and visitors to experience a magical holiday season on the White River.
Last year, over 48,000 cars drove through the display, drawing the interest of travelers from 33 states and 12 countries. Forty-five percent of Ferris wheel riders were out-of-state visitors.
Batesville's White River Wonderland has been recognized for contributing to Arkansas's growing tourism industry. It was named the 2022 Ozark Gateway Region's Festival of the Year and was a finalist for the Arkansas Tourism Attraction of the Year Award.
"The 2022 display will be back and bigger than ever," said Johnathan Abbott, City of Batesville landscape supervisor. "Our crews have been hard at work getting Riverside Park ready with expanded displays and new interactive attractions."
The 2022 display will open on Wednesday, Nov. 23, at 5 p.m. The lights display will be on daily from 5 p.m. to midnight. The final chance to see the lights will be on Monday, Jan. 2, 2023.
The show features millions of lights and welcomes thousands of visitors each year. Admission to White River Wonderland is free; however, donations are accepted.
As always, visitors will have numerous options for viewing the lights.
"You can walk or drive through the display or catch a horse-drawn carriage, train, or Ferris wheel ride. That's what makes us different," said Abbott. "Most other displays in the state are either drive-thru or walk-thru. We are a little bit of everything in Batesville."
Drivers can watch the show from the warmth of their cars as they listen to Christmas tunes on White River Wonderland's radio station. The entire display is also walkable, with illuminated sidewalks and walking trails. A fully-lit walking trail leads visitors to the light show from the overflow parking lot at the Batesville Community Center.
Visitors may also ride through the display in one of the White River Wonderland's horse-drawn carriages. Carriage rides will run from Nov. 25 through Dec. 30, except Dec. 25. Carriage rides are $10 per person ages two and up.
The custom-built White River Express train will return this year from Nov. 25 through Dec. 30, except Dec. 25. Train rides are $6 per person ages two and up.
A family favorite, the synthetic-surfaced skating rink, will also return to the Riverside Park amphitheater. The rink will be open from Nov. 26 through Dec. 30. The rink will be closed on Dec. 24 and Dec. 25. Ice skating is $6 for one hour and skates are provided.
The Batesville Area Chamber of Commerce is bringing back the 70-foot LED Ferris wheel for a limited time. Last year, over 5,400 riders enjoyed the Ferris wheel. The Ferris wheel is $5 per rider, regardless of age, and will operate from Dec. 16 through Dec. 22. Tickets for the Ferris wheel will be available for pre-order online on Dec. 1.
Santa Claus will make his return to the Christmas Capital of Arkansas to visit the White River Wonderland lights display. Each weekend, visitors will be able to take "Selfies with Santa." Visitors will get to spend three minutes with Santa for $5.
"We think this year will be the best lights display yet," said Abbott. "We think families will build life-long memories with a trip to Batesville's White River Wonderland."
To learn more about the Christmas Capital of Arkansas, visit whiteriverwonderland.com or the White River Wonderland Facebook page by clicking here.
---
Have a news tip or event to promote? Email White River Now at news@whiterivernow.com. Be sure to like and follow us on Facebook and Twitter. And don't forget to download the White River Now mobile app from the Google Play Store or the Apple App Store.
Get up-to-date local and regional news/weather every weekday morning and afternoon from the First Community Bank Newsroom on Arkansas 103.3 KWOZ. White River Now updates are also aired weekday mornings on 93 KZLE, Outlaw 106.5, and Your FM 99.5.