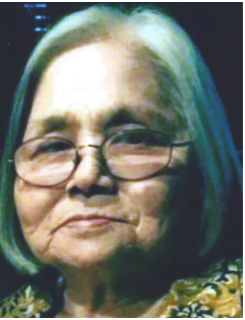 Haruko "Oba" Wodinowich, 86, of Batesville, Arkansas passed away on November 7, 2022. Haruko was born on January 1, 1936, in Ishikawa City, Okinawa, Japan, to the late Kamesabro and Kamado Ishikawa.
Haruko moved to Arkansas in 1974. She retired from White Rodgers where she worked for 27 years. She was a hard-working woman with a heart of gold who would help anybody in need. She was strong-willed and always spoke her mind. She enjoyed spending time with her grandchildren, cooking for her family and friends, sewing, and playing bingo.
She is survived by her daughters, Tomoko Natasona of Okinawa, Japan, Carol Bowes (Richard) of St. Augustine, FL, and Lisa Wetteland (Brian) of Batesville, AR; grandchildren, Nick Lee (Michele), Chris Lee (Shannon), Satomi Brownfield (Spencer), Lori Lee, Mallory Hall (Chad), Matthew Reves (Lacy), and Andrew Wetteland; great-grandchildren, Eli Brownfield, Brandon Lee, Madison Lee, Tucker Lee, Cohen Lee, Cora Brownfield, Easton Lee, Mattox Reves, and Wyatt Reves; sisters, Sumiko Harmon (Chad) of Virginia Beach, VA, and Kazuko Yamauchi of Okinawa, Japan; and brother, Kiyoshi Ishikawa of Okinawa, Japan. She is preceded in death by her parents; sister, Mitsuko Shikoku; and brother, Kazaaki Ishikawa.
A memorial service for Haruko will be held on Saturday, December 3, 2022, from 2 PM to 4 PM in the Willis Funeral Service Chapel.