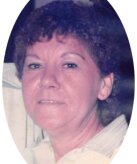 Dianne (Hubbard) Riley of Tuckerman, Arkansas, departed this life on Wednesday, November 30, 2022, at the age of 77. She was born September 26, 1945, in Newport, the daughter of William Verdie and Eula (Winemiller) Hubbard.
Mrs. Riley was a 1963 graduate of Newport High School. She worked at American Lantern for 17 years and spent several years managing Neighborhood Cleaners until her retirement.
She enjoyed bowling and spending time with her family. Mrs. Riley especially loved her grandchildren and doted on them. She enjoyed talking with friends and family and sharing stories.
She was a member of the Glenn Street Church of Christ.
Mrs. Riley was preceded in death by her husband, Clifford Carl Riley; one son, James Cooper; one granddaughter, Robyn Bradford; one brother, Johnny Ray Hubbard; one sister, Eunice Tackett; her niece, with whom she was as close as a sister, Paulette Dunn; and her parents.
She is survived by one stepson, Clifford Riley and wife, Diane of Skiatook, Oklahoma; two step-daughters, Amber Emery of Tuckerman, and Tammy Muir and husband, Allen, of Newport; eight grandchildren, Dexter Cooper and wife, Lauren, Sarah Cooper and Cody Hembrey, Peyton Emery, Mathew Emery, Brandi Riley, Chris Mitchell, Patrick Riley, and James Cameron; two great-grandchildren, Riley and Jalynn Bradford; her daughter-in-law, Teresa Combs Carlton; special friends, Janet Hagood, Vickie Dockins, and DeeDee Stapleton; several extended families, and a lifetime of friends.
The Riley Family would like to extend sincere thanks to Dianne's team of devoted nurses.
Friends may visit the funeral home, Friday, 5:00-8:00 p.m. Funeral services are 11:00 a.m. Saturday at Jackson's Newport Funeral Home Chapel, with interment in Dowell's Chapel Cemetery.
Those honored to serve as pallbearers are Scott Cooper, Greg Cooper, Freddie Cooper, Johnny Mason, Craig Dunn, and Dexter Cooper.