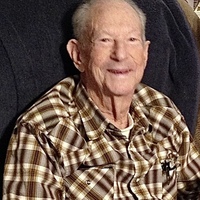 Charles R. Brown, 88, of Batesville passed away on Friday, January 13, 2023, in Batesville.  He was born May 12, 1934, in Floral to Jack and Dorothy Brown.  He was a farmer and a member of the Sidney Baptist Church and a long-term member and deacon of Floral Baptist Church.  He enjoyed remote control airplanes, which he spent many hours flying and rebuilding them.  He also enjoyed wildlife photography, mowing his yard with his Bad Boy mower and spending time with his family.
He is preceded in death by his parents; his wife, Dorma; and a granddaughter, Elizabeth Diane.
Survivors include a son, Randy Brown (Rhonda) of Conway; two daughters, Rachel Petty (Joe) of Bradford and Rhonda Fairfield (Irvin) of Russellville; two sisters, Ann Butler (Roby) of Batesville and Bernice Frazier of Floral; six grandchildren, James, Robbie, Daniel, Katelin, Heather and Casey; seven great-grandchildren, Fin, Sloan, Ember, Jian, William, Kai and Luca as well as a host of other relatives and friends.
Funeral services will be on Thursday, January 19, 2023, at 2:00 PM at Floral Baptist Church with Lynn Westmoreland officiating. Burial will follow at Cedar Grove Cemetery.
Arrangements are by Qualls Batesville Funeral Service.
Visitation will begin at 1:00 PM until service time at the church
Pallbearers will be Lanny Frazier, Lennie Frazier, Jarrod Frazier, Dennis Butler, Casey Fairfield and Kenny Carrigan
Honorary Pallbearers will be Irvin Fairfield, Jared Settles, Daniel Brown, Johnny Perry, Greg Beel and Gary Beel.