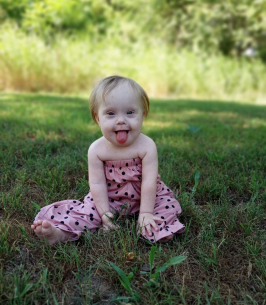 Faithlynn Rose Croney, 1 year-8 months-27 days old, of Mountain View, Arkansas passed away January 23rd, 2023, in Little Rocky, Arkansas, surrounded by her family.
She was born on April 27th, 2021, in Batesville, Arkansas to Chester Wayne Croney Jr. and Shania Lynn Sisco Croney.
Faithlynn was a ray of sunshine to many people. Making people smile was one of her greatest abilities. She enjoyed eating her Cheetos/gummies, playing dress-up, blowing/giving kisses, watching Ms. Rachel, learning sign language, and looking at bright colors, and she loved playing (tormenting) her brothers. Many family members and friends will miss her greatly, but we take great comfort in knowing she's in the arms of Jesus. "Shine bright, Sunshine."
Faithlynn is survived by her loving parents, Chester and Shania Croney of Mountain View, Arkansas; three brothers, Chester Croney III, Jordan Croney, and Zaxton Croney all of Mountain View, Arkansas; three grandparents, (No-No) Sandy Sisco of Mountain View, Arkansas and (Pa-pa) Chester and (Nana) Delinda Croney of Sylamore, Arkansas; seven great-grandparents, (Grammie) Flossie and (Pa-Pa) Fred Jackman of Alton, Missouri, (Grandma) Deborah King and (Grandpa) Riley Lewis of Herman, Missouri, (Nanny) Pam Mealer of Mountain View, Arkansas, (Grandpa) Joseph and (Grandma) Carolyn Croney of Sylamore, Arkansas. Faithlynn is also survived by a host of Aunts, Uncles, Cousins, Other Relatives, and many friends.
Faithylynn was preceded in death by two sisters, Skylynn and Promise Sisco; grandparent, (Pops) Russell Sisco; great-grandpa, (Pa-Pa) Huey Mealer.
A visitation will be held Saturday, January 28th, 2023, from 1:00 pm until 2:00 pm, at the Mountain View Funeral Service Chapel. Funeral services will follow at 2:00 pm with Brother Gary Ragland officiating. Interment will take place at Purdue Cemetery, in Onia, Arkansas.