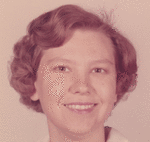 Phyllis Nadine Pippen of Newport, Arkansas, departed this life on Thursday, February 2, 2023, at the age of 88. She was born February 13, 1934, in Waldenburg, the daughter of Duncan and Rhoda (Largent) Pippen.
Miss Pippen was a 1948 graduate of Newport High School, receiving her teaching degree from State Teacher's College in Conway. She later earned her Masters's Degree from Arkansas State University. Miss Pippen was a public school teacher for 38 years, five of those years were spent at the Walnut Street School in Newport.
Miss Pippen was a very charitable person, who continually gave to organizations that supported children, the military, and Indian Reservations. She fully supported her family, whether that meant sitting with the sick or donating scholarship funds to family members who were graduating seniors.
Miss Pippen was an avid reader, belonging to a book club in Newport. She was a traveler, visiting 47 states and numerous European countries. Her travel included a summer of study in Spain.
Miss Pippen was a member of the Northside Church of Christ.
She was simply a wonderful person.
Funeral services are 2:00 p.m. Monday, February 6, 2023, at Northside Church of Christ. Interment will follow in Balch-Johnston Cemetery. Friends may visit at the church, Monday, 1:00 p.m. until service.
Those honored to serve as pallbearers are DeWayne Thatcher, Tommy Young, Chris Pitts, Phillip Helms, Craig Dunn, and James Weaver.