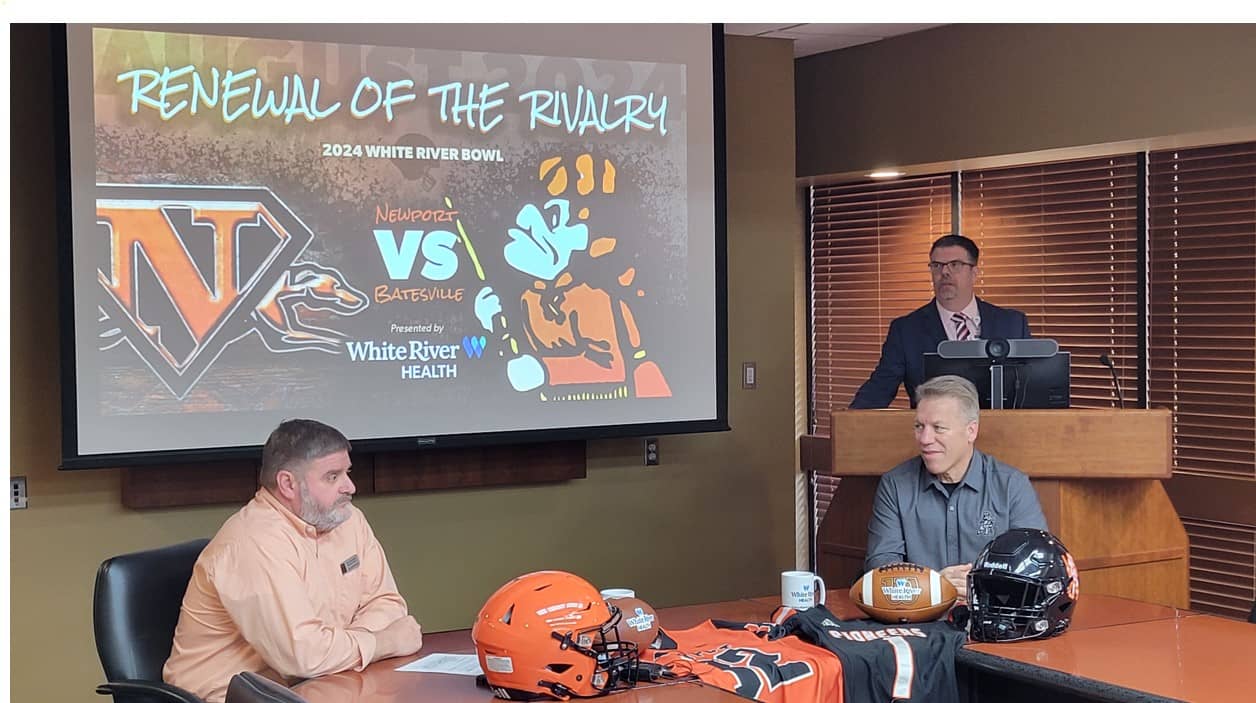 After an 11-year break, the high school football rivalry between Batesville and Newport will resume in 2024.
The superintendents of both schools made the announcement Tuesday at White River Health (WRH) in Batesville with WRH President and CEO Gary Paxson. The Batesville-based health system will be the major sponsor of the match-up, with Paxson noting Batesville and Newport are the two largest cities in WRH's six-county service area.
Batesville Schools Superintendent Dr. Michael Hester said he and Newport Schools Superintendent Jon Bradley had been discussing the renewal of the rivalry for quite some time and recently had put the "finishing touches" on the game to be renewed.
Both superintendents said they didn't know the wins and losses of each team throughout the years, but have been told it is very close to being 50/50.
Bradley said Newport opted out of playing Batesville when its enrollment began to decline. Both head coaches — Coach Brian Reardon of Newport and Coach Ryan Morrow of Batesville — agreed that the renewal is a game each looks forward to and said they thought the games would play to sell-out crowds.
The first game will be played Aug. 30, 2024, at Newport. It will be the 99th meeting of the two schools in football. After that, the games will alternate playing sites between Batesville and Newport.
Hester said Batesville's player bus will travel from Batesville to Newport with a police escort and will come into Newport with blue lights on and "sirens blaring."
One major part of the game's festivities will be the awarding of eight $1,000.00 scholarships, four from each school. The scholarships will be awarded to one senior team member, one senior band member, one senior cheerleader, and one senior member of the school's dance team.
And the rivalry has a name. It will be called the White River Bowl, with a trophy to be taken home by the winning team for the coming year.
 Watch the announcement via the Batesville School District's Facebook page below: