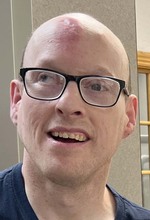 Nathaniel Heath Chilcutt of Farmington, Arkansas, departed this life on Monday, March 6, 2023, at the age of 43. He was born March 19, 1979, in Jonesboro, the son of Neal Chilcutt and Sara Frances (Moon) Chilcutt.
Heath was a former Special Olympics athlete, competing in the Track and Field Division. He was a graduate of Springdale High School.
Heath previously worked at the Open Avenues Sheltered Workshop. One of his favorite jobs was working on the final assembly of and collecting rabbit foot keychains.
Heath attended the New Heights Church in Fayetteville and participated in the Special Needs Ministry.
Heath loved big trucks, tractors, and school buses. Most of all, he loved spending time with his family at the Moon Family Farm in Swifton. He was part of the sixth generation to live during his young life on what he affectionately referred to as "The Farm".
Heath will forever be remembered for his big welcoming smile, his twinkling eyes, and his outgoing personality that allowed him to never meet a stranger. He shared his joy for life by his friendly greetings for all of those he met.
Heath was preceded in death by his maternal grandfather, James Nathaniel "Nat" Moon, and his paternal grandparents, Earl J. "Buck" Chilcutt and Lawanda Nell Vaughn Chilcutt.
He is survived by his parents, Neal Chilcutt and Sara Frances (Moon) Chilcutt of Farmington; one brother, Justin Moon Chilcutt of Farmington; his maternal grandmother, Wanda Lee (House) Moon of Swifton; his niece and nephew, Clara Chilcutt and Colin Chilcutt, both of Farmington; two aunts, Natalee Moon of Swifton and Debbie Johnson of Pollard; and a lifetime of people who treasured Heath for his beautiful spirit.
Friends may visit at the Swifton Church of Christ on Friday, March 10, 2023, from 12:30 p.m. until service time. Graveside services will follow at Swifton Cemetery at 2:00 p.m. Friday with Mr. J.W. House and Mr. Glen House, his two great-uncles, officiating.
Those honored to serve as pallbearers are Neal Chilcutt, Justin Chilcutt, Natalee Moon, J.W. House, Glen House, and Iyad Hassan. Honorary pallbearers are Marty Harvey and Steven Smith.
The family would like to extend special thanks to Heath's caretaker of over two decades, Iyad, and to caretakers, Blake, and Bob.
Memorials may be made to Open Avenues, P.O. Box 908, Rogers, Arkansas 72757 or Swifton Cemetery, 317 Main Street, Swifton, AR 72471.